Board of Directors Report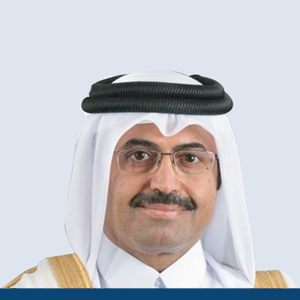 I am pleased to introduce Nakilat's 2020 Annual Report on behalf of Nakilat's Board of Directors. 
This past year has been one unlike any other, with the COVID-19 global pandemic reshaping our definition of normal and creating a new 'normal' of living and working. Like the rest of the global shipping and maritime industry, the company has had to navigate unprecedented challenges to its operations.
However, the company's solid business continuity plans and infrastructure enabled us to swiftly adapt to the situation and allowed us to remain focused on creating value for our shareholders and customers.

Nakilat remained committed in achieving its vision and delivered many noteworthy accomplishments during this challenging year. The company continued to deliver clean energy to worldwide destinations without any interruptions, upholding our commitment to operational excellence and customer satisfaction.
The safe completion of the second phase fleet management transition involving 7 LNG carriers, delivery of a MEGI LNG newbuild, as well as the first FSRU transition to NSQL-management, were all accomplished within less than a year, under trying circumstances and with many restrictions in place. These achievements are no mean feat for any shipping company and bear strong testament to our commitment in maintaining our leadership in energy transportation, while simultaneously supporting the country's position as the top exporter of clean energy worldwide.
Today, Nakilat stands proud with a fleet strength of 74 vessels, comprising of the world's largest LNG fleet with 69 LNG carriers, one Floating Storage Regasification Unit (FSRU) and four large LPG carriers. The majority of Nakilat's vessels are fixed with long-term world-class charterers, generating a steady and healthy cash flow for the company. Through our in-house ship management, Nakilat operates and manages 27 vessels comprising of 22 LNG, four LPG carriers and one FSRU.
Our local joint ventures at the Erhama Bin Jaber Al Jalahma Shipyard continue to contribute towards the development of the energy sector's supply chain, with the successful completion of a major offshore fabrication project for Qatargas' North Field Bravo (NFB) project delivered earlier this year. The project bore great significance as it was the first time that a major offshore living quarters structure was fabricated completely at a local yard in the country. This highlighted the company's capabilities in supporting the increasing demand for the construction of offshore and onshore structures in Qatar, and by extension, the country's efforts at localization.
Nakilat's integrated shipping and maritime operations include ship repair, offshore fabrication as well as diverse maritime services, all of which contribute towards developing Qatar as a strategic shipping and maritime hub.
The Board is pleased to highlight achievements of our joint ventures this year:
N-KOM successfully completed the fabrication of a brand-new offshore living quarters for Qatar Gas' North Field Brave (NFB) living quarters expansion project
NSW achieved 10 million exposure hours LTI free
NAC completed 1 year of global agency services and attended to more than 4,700 vessel calls locally and internationally in 2020
Given the scale and rapid transmission of the COVID-19, health and safety became even more of a priority across all our operations, to safeguard our most vital assets – our people. We spared no effort in ensuring a safe workplace to protect the health of our workforce, by taking various measures to prevent the spread the virus and reduce risks to all our employees, contractors and visitors, be it at the office or onboard our vessels.
Our business continuity preparedness was proven with our ability to remotely work from home while delivering the same level of business excellence, further reinforcing our shareholder and customers' confidence in the company. Moving forward, the Board of Directors shall continue to demonstrate unwavering commitment towards upholding and implementing the highest standards of corporate governance as well as robust risk management, business continuity preparedness, and various internal measures throughout the organization to secure our employees' wellbeing as well as the company's sustainable business growth.
Despite the unique challenges faced by the company, the Board of Directors commends Nakilat for continuing to deliver robust financial performance and sustained operational excellence in 2020. With significant accomplishments achieved this past year, I am pleased to announce that we have achieved a net profit of QR 1,161 million for the year 2020, a 15.7% increase as compared to QR 1,003 million in 2019. As such, Nakilat's Board of Directors is pleased to recommend the General Assembly to distribute cash dividends equivalent to '0.11 Qatari Riyal' per share for the year 2020.
Nakilat's Board of Directors would like to express its gratitude to HH Sheikh Tamim Bin Hamad Al Thani, the Emir of the State of Qatar, and to HH Sheikh Hamad Bin Khalifa Al Thani, the Father Emir the State of Qatar, for their wise leadership and vision that has enabled Nakilat's growth into a diversified shipping and maritime company that significantly contributes towards the development of Qatar's maritime as well as oil and gas sector.
The Board of Directors also offers its appreciation to HE Engineer Saad Sherida Al-Kaabi, Minister of State for Energy affairs, The President & CEO of Qatar Petroleum (QP) for the ongoing support of Nakilat's activities, as well as to QP including the industrial cities for the extended cooperation with the Erhama Bin Jaber Al Jalahma Shipyard.
We also extend appreciation to our long-term charterer Qatargas for their continued support towards Nakilat's operations. Finally, we would like to thank Nakilat's partners, shareholders, management, employees, Qatar Exchange and Qatar Financial Markets Authority (QFMA) for their continued dedication and support.
HE Dr. Mohammed Bin Saleh Al-Sada
Chairman of Nakilat
EXPLORE THE ANNUAL REPORT
Downloads
Have a Question?
Contact our Investor Relations
team