Safety Philosophy
Safety is a core value and a foundational pillar at Nakilat and is of paramount importance in our 24/7 global operations. Our philosophy is centered on our commitment to cause no harm to people or the environment.
We operate to the highest standards by adopting a multi-pronged approach that focuses on continuously improving workplace health and safety while maintaining a high level of commitment towards minimizing the environmental impact of our activities, be it on land or at sea. Care of people and the environment is a top priority at Nakilat which enables us to fulfill our responsibilities towards our stakeholders and communities both at home and abroad.
Nakilat's safety philosophy broadly focuses on four main areas: Safety, Health, Quality and Environment.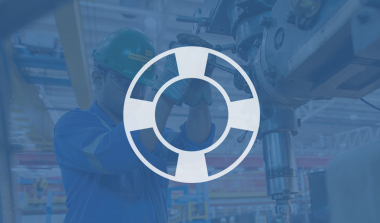 SAFETY
At Nakilat we believe that all incidents and injuries are preventable. Our goal is to ensure that nobody who works for, or with Nakilat, is hurt or injured and they return home to their families safely. To achieve this, Nakilat makes significant investments in people, processes and equipment. Our safety performance has been exceptional and continues to improve year on year.
Recognizing our strategic role, we conform to the highest international safety standards and strongly advocate safety ownership across all levels in our effort to become an 'Incident and Injury Free (IIF)' organization and achieve operational excellence.
HEALTH
Nakilat is committed to ensure that the health of our employees or contactors are not adversely impacted by the company's operations. Nakilat has multi layered programs to assess, monitor and control any health risk to our workforce.
In addition, Nakilat recognizes that having healthy employees not only translates to enhanced efficiencies but also, enables the creation of a motivated and sustainable workforce, which is vital for our long-term strategic goals. We actively organize internal wellness campaigns and awareness sessions with local healthcare providers to promote the importance of health and well-being amongst our employees and their families.
QUALITY
The company is certified by Lloyd's Register for compliance with ISO 9001 (Quality), OHSAS 45001 (Occupational Health & Safety), ISO 22301 (Business Continuity) as well as ISO 14001 (Environmental) management systems. In addition, Nakilat's fleet of vessels are fully compliant with international codes and standards, which include the International Safety Management code, International Ship and Port Facility Security code, Maritime Labor Convention, SOLAS and MARPOL.
ENVIRONMENT
Protecting, and not causing harm, to the environment wherever we do business is very important to Nakilat. We comply with all National and International regulations, laws and conventions where we operate. We also continually enhance our processes as well as adopt green technologies and practices, such as in our shipping and various maritime operations, to minimize environmental impact and ensure long-term sustainability.  As evidence of this, a majority of the Nakilat-managed fleet have been awarded Green Award Certificates for their high safety and environmental conformance standards.