CEO Message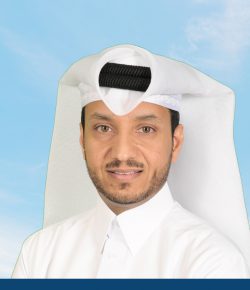 2019 was yet another year characterized by outstanding achievements for Nakilat, as the company continued its impressive momentum of growth and expansion across all fronts. Nakilat emerged stronger, pursuing operational excellence, diversifying portfolios, solidifying internal capabilities, strengthening international presence and aggressively implementing strategic long-term growth strategies. The company remained undeterred by challenges as it strived towards its vision to be a global leader and provider of choice for energy transportation and maritime services.
The result of our concerted efforts is clearly tangible from our stellar financial performance in 2019, with a net profit of QR 1,003 million achieved, a 12.4% increase against the previous year at QR 892 million.
In alignment with our growth strategy, Nakilat expanded its international presence with a larger fleet and is preparing to take on greater ship management responsibilities in the coming period, as we steadily consolidate into a fully-fledged shipping and maritime company. The agreement signed with Maran Ventures for four newbuild LNG carriers will not only enhance the capacity of our fleet but will strengthen our vessel management and marketing capabilities for the world's largest LNG fleet. Furthermore, the full ownership acquisition of four Q-Flex LNG carriers that we currently manage will provide greater operational flexibility and optimization of resources, leading to the realization of cost savings with minimal risks and ultimately, provide greater value to our customers.
Staying true to our mission, Nakilat is always on the lookout for potential partnerships and collaborations that would strengthen our business portfolio and generate positive return for our shareholders. We entered into a strategic partnership, as part of the Energy sector's "Tawteen" initiative, with McDermott, to form a new joint venture, Qatar Fabrication Company (QFAB). This new venture will not only increase productivity levels at our world-class Erhama Bin Jaber Al Jalahma Shipyard, but also develop local construction capabilities to support the increasing demand for the construction of offshore and onshore structures in Qatar, as the country's ramps up its liquefied natural gas (LNG) production from 77 to 126 million tonnes per annum in the coming years. In addition, it will facilitate the transfer of knowledge and expertise to the local workforce and contribute towards the creation of a sustainable talent pipeline in Qatar, in alignment with Qatar National Vision 2030.
Our local joint ventures continue to value-add to our maritime operations and contribute towards the establishment of an integrated maritime industry in Qatar. The successful completion of one of the most complex offshore projects undertaken at the Erhama Bin Jaber Al Jalahma Shipyard to date, marked a historical milestone for Nakilat-Keppel Offshore & Marine (N-KOM). Made with pride in Qatar, the 877-tonne topside fabricated by N-KOM is the first and largest to be constructed locally as part of the Bul Hanine Re-development Project for Qatar Petroleum. The safe and timely completion of this major project is an excellent demonstration of our project management team's capabilities in handling complex, large-scale projects to meet the demands of the local oil and gas industry. Riding on this success, the company looks forward to delivering more large-scale projects that are made with pride in Qatar, for Qatar, to meet the demands of the local oil and gas industry. In addition, construction is in the final stages for Qatargas' 5,000-tonne NFB living quarters expansion project, due for delivery in early 2020.
A common thread underlying our various operational successes has been our keen attention to safety, health and environmental management, as we strive to provide shipping and maritime services in a safe, reliable and efficient manner. We not only marked a milestone achievement in our fleet operations and management with zero LTIs in 2019, but also secured the prestigious "Sword of Honour" awarded by British Safety Council for the second consecutive year, following a stringent and comprehensive audit process. The accomplishment of such safety milestones not only affirms our high operating standards but is also a reflection of the strong safety culture and ownership amongst our staff and seafarers, and their dedication to create a safe working environment. On this note, I extend my appreciation and heartfelt gratitude to the team for their passionate dedication to safeguard the lives of everyone at our workplace, and the integrity of all our assets and facilities.
Sustainability continues to play a big part in how we conduct our business through our strategic human capital approach.  As an employer of choice, our comprehensive development programs and commitment to nurture capable and dedicated leaders for the industry was recognized, with Nakilat wining the 'Supporting Training & Development' award at the Energy and Industry Sector's Annual Qatarization Review Meeting for the third consecutive year.
As a responsible corporate citizen, we conduct an array of activities and campaigns in the spirit of giving back to society and preserving the natural environment, in alignment with the goals of our robust Corporate Social Responsibility framework.
Nakilat remains optimistic that with these solid foundations proven by great accomplishments, the company has gained the growth momentum to propel us forward from good to great in the coming years. The future holds much promise for Nakilat and we are confident in continuing to deliver value for our shareholders while bringing the company to greater heights.
Eng Abdullah Al Sulaiti
Chief Executive Officer
EXPLORE THE ANNUAL REPORT
Downloads
Have a Question?
Contact our Investor Relations
team