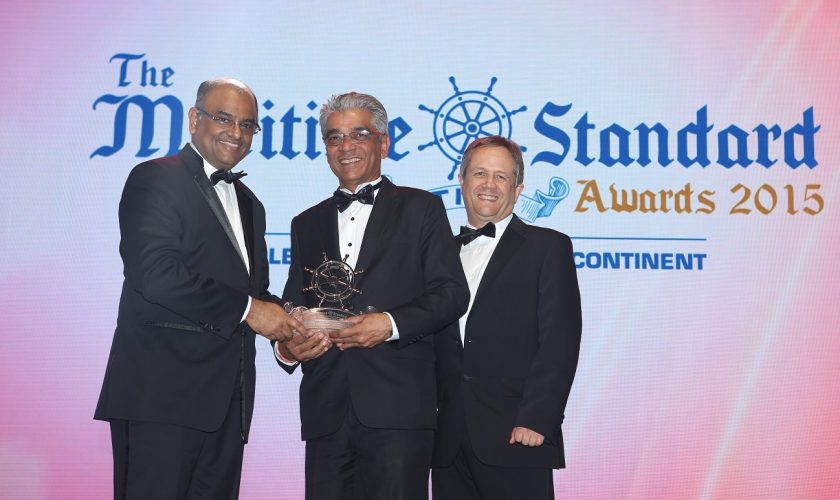 Erhama Bin Jaber Al Jalahma Shipyard named Best Regional Shipyard at TMS Awards 2015
17 November 2015
In continuation of its milestones journey regionally and internationally, Nakilat – Keppel Offshore & Marine (N-KOM) has received the Shipyard/Ship repair Facility of the Year at The Maritime Standard Middle East and Indian Subcontinent Awards 2015. N-KOM's Chief Executive Officer Mr. Chandru Rajwani received the award during the ceremony held on 9 November 2015 in Dubai.
Managing Director of Nakilat Eng. Abdullah Al Sulaiti said, "We are grateful to the industry for recognizing our efforts and contributions to the maritime sector, as well as to all our partners for their support and co-operation throughout the journey. This award will undoubtedly strengthen our drive to provide top notch service ability as we work towards establishing the shipyard as a provider of choice for marine and offshore advancement in the region."
This is the second award won by the shipyard for its successful undertaking of the world's first world's first M-type Gas Injection (ME-GI) retrofit project earlier this year, which involved modifying a Nakilat owned Q-MAX vessel, Rasheeda, to run on LNG as an alternative to marine diesel fuel. N-KOM had earlier won the Ship Repair Innovation award at the Seatrade Middle East, Indian Subcontinent & Africa Awards last month. The award is testament to the shipyard's commitment to service excellence via its various commercial initiatives and facility developments, as well as its high safety and quality standards in delivering marine and offshore projects.
In additional to significantly reducing the vessel's greenhouse gas emissions, additional benefits of the project also include the potential to increase mean time between maintenance, provide flexibility of fuel supply to react to market changes and reduced bunkering activities which in turn will offer operations and marine risk reduction.