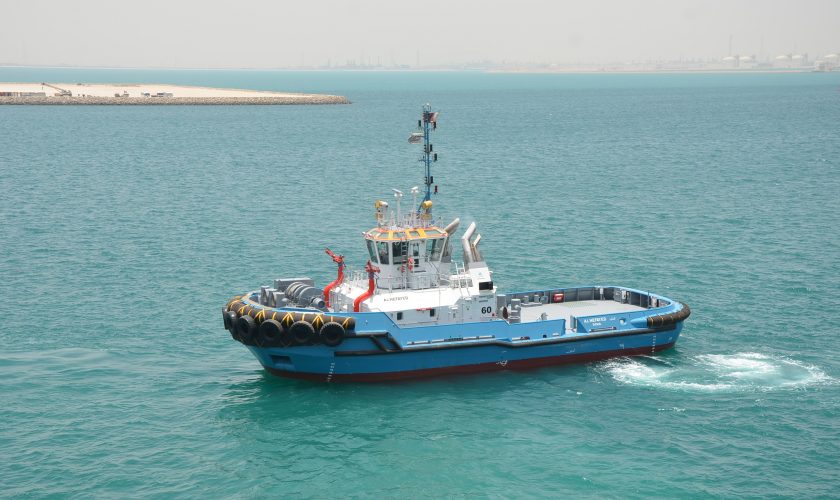 New Qatari-built vessels by Nakilat Damen expand the NSW fleet
30 July 2015
Nakilat Damen Shipyards Qatar (NDSQ) has launched two new locally built vessels. Al Ghaf, a pilot boat and Al Nafayed, a tug boat to the owners Nakilat SvitzerWijsmuller (NSW).
Mr Abdullah Fadhala Al Sulaiti, Managing Director, Nakilat, said: "We're proud to say that the Nakilat and its family of companies is manufacturing, delivering and utilising the highest quality of marine vessels. "We are proud to announce that Al Ghaf is 25th successfully delivered vessel. We have currently 17 ongoing projects at the yard, contributing to the Qatari National Vision, providing vessels 100% made in Qatar.
Al Nafeyad will be put to use assisting ships entering and departing the port. She is a 31-meter long tug boat with a beam of 11 meters, with a bollard pull of 60 tonnes and a trial speed of approximately 13 knots. The two mooring boats NDSQ delivered for NSW earlier this year, named Umm Al Shubrum and Al Kharsaah, are already an important part of the fleet there.
Al Ghaf is a pilot boat that will be put to use as transport for personnel and pilot duties. The Damen Stan Pilot 2205, is 22 meters long with a beam of 6 meters and has a trial speed of approximately 29 knots. She will be the first of this model delivered to NSW. The previous delivered vessels were two ASD Tugs type 2810 and two Stan Tugs 1606 and are already an important part of the fleet.
NSW currently operates over 30 vessels and performs 12,500 tug jobs per year.