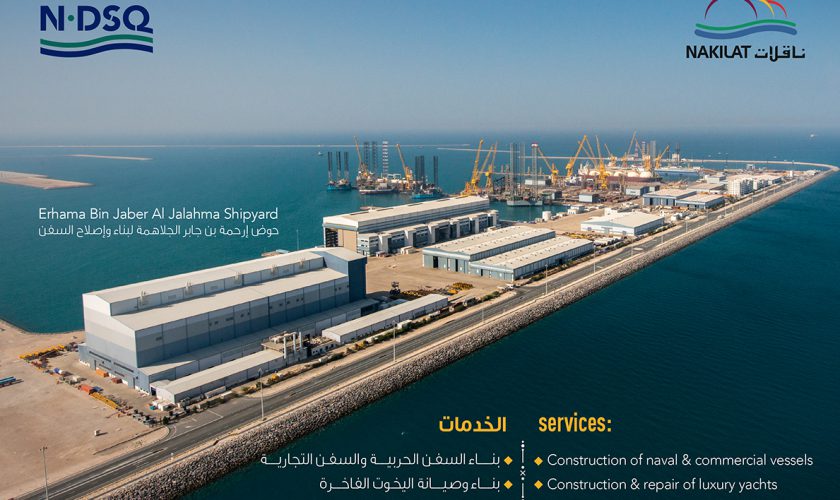 NDSQ successfully delivers the first superyacht newbuilds constructed at Erhama bin Jaber Al Jalahma Shipyard
26 June 2018
Nakilat Damen Shipyards Qatar (NDSQ) has successfully delivered its first two newbuilds of fast luxury superyachts. The two 71-meter highly-complex fast diving vessels (FDV), are the first superyacht-quality newbuilds constructed entirely at Qatar's world-class Erhama Bin Jaber Al Jalahma Shipyard. Adapted from the Damen 'Sea-Axe' fast yacht support vessel, these customized FDVs are designed and built to the highest standards, ensuring excellent performance, ease of maintenance and enhanced safety features.
Immensely proud of the achievement, Nakilat Chief Executive Officer Eng. Abdullah Al Sulaiti said, "NDSQ has been making strides in Qatar's shipbuilding arena since its operations started in 2011, with successful deliveries of a variety of newbuild vessels to support operations at local ports and terminals. The completion of this milestone project is yet another testament of our capabilities to provide comprehensive services to the local shipping and maritime industry. Within the brief span of its operations, NDSQ's shipbuilding capabilities have proven to be a strategic addition to Qatar's maritime industry, acting as a catalyst to spur the country's growth as well as fulfil the economic diversification objectives outlined by Qatar National Vision 2030."
NDSQ constructs all workboats required for a variety of tasks carried out at ports and harbours, specialized in towage and movements as well as harbour services. The yard also builds tugboats, pilot boats, work barges, dredgers and high-speed crafts using proven shipbuilding designs, while incorporating industry-leading standards for quality in all aspects of the manufacturing process. NDSQ also undertakes various works for luxury yachts, with comprehensive shipyard facilities such as fully climate-controlled halls enabling interior and exterior finishing to the highest yachting standards. The Superyacht Hall is used to build, repair and refit superyachts and yacht support vessels of a length of up to 170m.
To date, NDSQ has successfully delivered 40 vessels to satisfied customers, along with 28 yacht refits and repairs. This has enabled the shipyard to earn a reputation for excellence along the way, despite being very recently established when compared to its peers.
In compliance to the highest international standards, NDSQ is a fully certified ISO 9001:2008 Quality Management Systems (QMS), ISO 14001:2004 Environmental Management Systems (EMS) and OHSAS 18001:2007 Occupational Health and Safety Management company, putting rigorous safety, health and environmental policies in place to create a secure and conducive working environment while ensuring the safe, reliable and efficient delivery of all its projects.