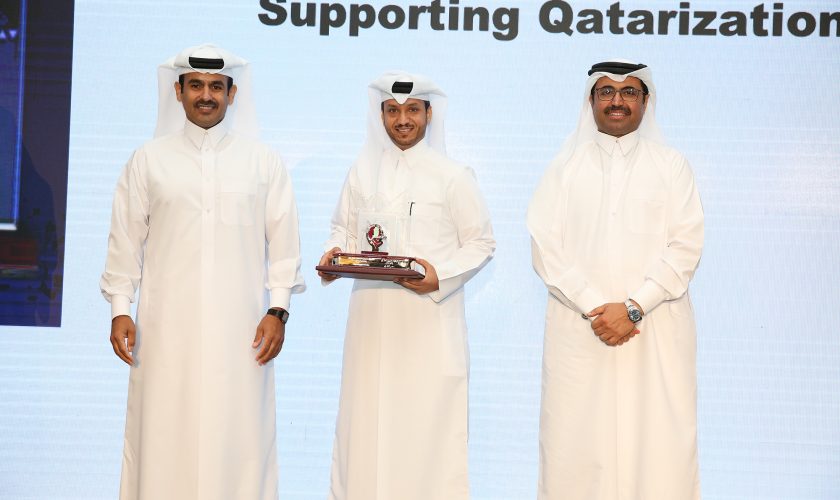 Nakilat tops Qatarization in Qatar's oil & gas industry
17 May 2017
Nakilat has been presented with the 'Qatarization Award for supporting Qatarization' at the Energy and Industry Sector's 2017 Annual Qatarization Review Meeting held on 15th May 2017. The award was presented by Qatar's Minister of Energy & Industry, His Excellency Dr. Mohammed Bin Saleh Al Sada and by Qatar Petroleum President and CEO Mr Saad Sherida Al-Kaabi, and received by Nakilat Managing Director Eng. Abdullah Al-Sulaiti.
There were four award categories in the event, each recognizing a local company that had demonstrated excellence in the support and liaison with the Education Sector, supporting Qatarization, support for Training & Development as well as supporting Student's sponsorships. Nakilat was awarded in the 'supporting Qatarization' category, for the company's demonstration of successfully implemented HR strategies towards this achievement.
Nakilat's achieved Qatarization rate of 37.4% is attributed to the success of its wide-range and comprehensive development programmes, such as the National Developee Programme which allows entry-level Qataris to embark on a two-year long development programme that would groom them to undertake senior positions upon completion. There is also a unique Marine Cadet Program, which sponsors the education and training of talented Qataris to become marine officers or engineers working onboard Nakilat vessels. In addition, Nakilat has been actively partnering with local schools, colleges and institutes to engage students across all levels and promote career opportunities with Nakilat as well as spread awareness for the maritime industry.
Nakilat Managing Director Eng. Abdullah Al-Sulaiti said, "We are proud to be recognized by the industry for our efforts at progressing Qatarization in the country. Nakilat's Qatarization initiatives come as part of our commitment to invest in human capital in attracting, retaining, and developing our workforce with an emphasis on national development, as evident from our mission statement; a mission that is aligned with Qatar's National Vision 2030, which aims for the development of Qatar's workforce."