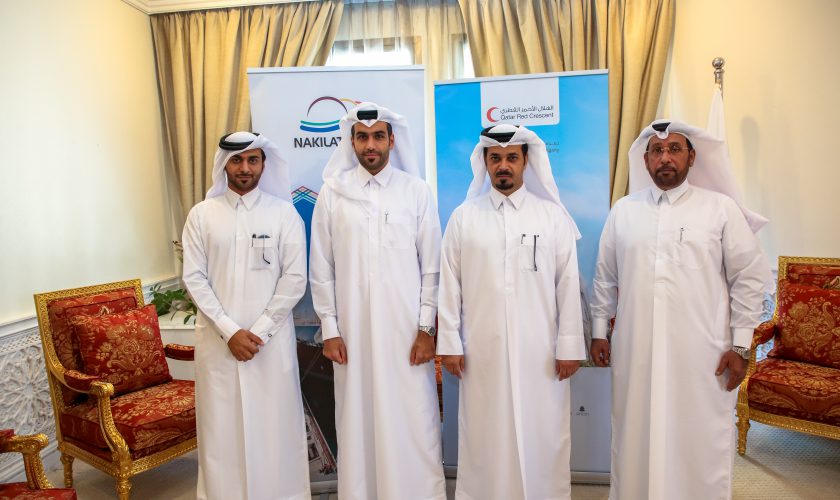 Nakilat Shows Support for Qatar Red Crescent's Initiatives
10 October 2018 
Nakilat recently donated information technology (IT) equipment to Qatar Red Crescent Society (QRCS), a charitable non-governmental organization (NGO). This contribution comes as part of the company's ongoing commitment in supporting the various initiatives driven by QRCS, to support the charitable services the company provides as one of the leading institutions in the field of humanitarian and charitable work.
Commenting on this occasion, Nakilat's Chief Administration Officer Rashid Al Marri said: "With this contribution, Nakilat aims to empower the communities through technology and supporting Qatar Red Crescent Society initiatives towards enabling better services towards improving the social development, awareness and educational initiatives".
In addition, Al-Marri stressed that QRCS plays a vital role as one of the active partners in establishing the pillars of social responsibility in the country, which is in line with company's sustainable initiatives and values.
Youssef Abdullah Al-Sada, Executive Director of QRCS, expressed his utmost appreciation for Nakilat's valuable contribution. "We are grateful to Nakilat for sharing their expertise with us and for their continued support towards QRCS. This is not the first time that Nakilat has proactively contributed to such initiatives, having already made a donation earlier this year. Their recent contributions clearly show their commitment to make a difference in local and international communities through humanitarian efforts, as part of their corporate social responsibility (CSR)".
In a time of rapid technological advancements, it is important for IT knowledge and skills to be shared amongst the community through such sustainable efforts. Earlier during the year, Nakilat had engaged QRCS to present about Enterprise Resource Planning (ERP) business process management software, outline its vast benefits of automation functions, towards enabling better services towards improving the social development, awareness and educational initiatives.
Nakilat continues to develop partnerships with a wide range of Qatari institutions, in support of sustainable development pillars outlined within the Qatar National Vision 2030. The company remains committed to giving back to the community through its various outreach programs outlined within its Corporate Social Responsibility (CSR) pillars of community, health, education and environment.