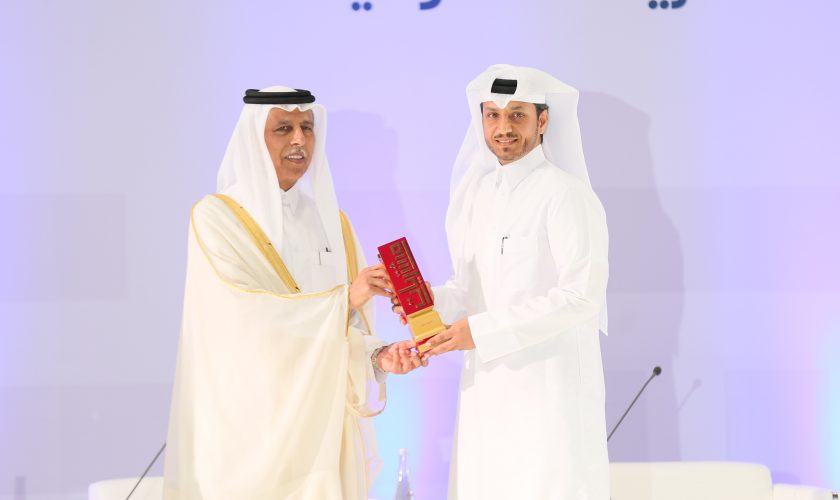 Nakilat participates in Moushtarayat 2017
09 April 2017
Nakilat has participated in the second edition of the Government Procurement & Contracting Conference and Exhibition ("Moushtarayat") from 6 to 8 April 2017 at the Doha Exhibition and Convention Center (DECC). During the event, Nakilat was presented with the Moushtarayat National Award by HE Deputy Prime Minister and Minister of State for Cabinet Affairs Ahmed bin Abdullah Al Mahmoud  for the company's successful participation in the exhibition in 2016, and subsequent partnerships and contribution to local SMEs (Small Medium Enterprises).
Moushtarayat is an initiative by the Qatar Development Bank (QDB) in partnership with the Ministry of Finance (MoF), aimed at opening a new wave of opportunities for the local private sector, developing local talent and creating a co-operative environment for Qatari entrepreneurs.
Over the three-day conference, Nakilat showcased its range of business activities, such as its world-class shipping fleet comprising of 63 LNG and 4 LPG carriers, as well as its extensive ship repair and construction facilities at the Erhama bin Jaber Al Jalahma Shipyard. The company also highlighted its existing procurement practice that prioritizes local suppliers and vendors when sourcing goods and services.
Eng. Abdullah Fadhalah Al-Sulaiti, Managing Director of Nakilat said: "Moushtarayat is an excellent platform for Nakilat to demonstrate our support towards the government's efforts at increasing participation, developing capability and building capacity of local businesses. This event not only promotes the strength and scope of the maritime activities that we are operating and developing in Qatar, but also positions Nakilat as a comprehensive service provider for energy transportation and maritime services in the region. Nakilat's participation in this integral event marks our steadfast commitment in contributing to the country's social and economic development aspirations, as envisaged in the Qatar National Vision 2030."