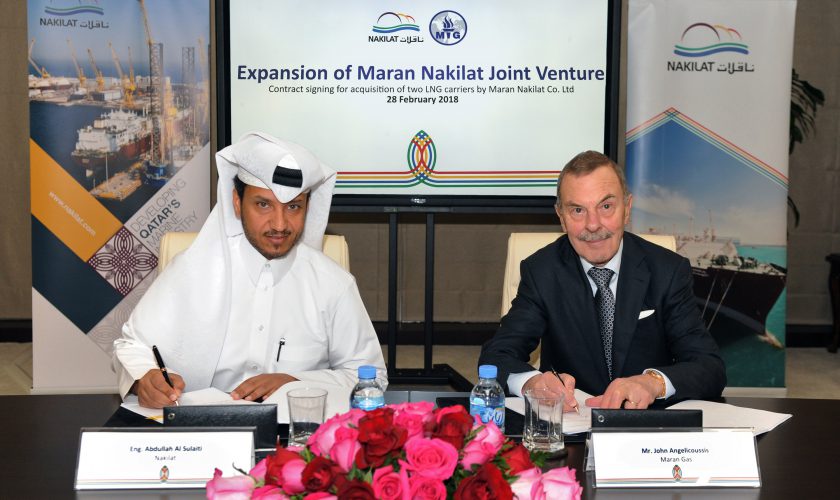 Nakilat expands joint venture partnership with Maran Ventures Inc.
3 March 2018
Nakilat has expanded its joint venture partnership with Greek shipping company Maran Ventures Inc., to include two additional LNG vessels.
Maran Nakilat Co. Ltd. was first established in 2005 with four jointly-owned LNG vessels, and was further expanded on several occasions. This new agreement increases the number of vessels jointly-owned by Nakilat and Maran Gas from 13 to 15 vessels. The two newly added vessels, Woodside Rogers and Woodside Goode, are equipped with modern technology and built by Daewoo Shipbuilding & Marine Engineering Co (DSME). In addition, the two vessels are under long-term charter, and equipped with Dual Fuel Diesel-Electric (DFDE) propulsion models with a capacity of 159,800 cubic metres each.
Nakilat's Chief Executive Officer Eng. Abdullah Al Sulaiti said, "Nakilat is extremely pleased that our strong partnership with Maran Gas continues to flourish since the first agreement signed in 2005. Strategic alliance with renowned partners has been fundamental to our success, and we are always looking for opportunities to grow our international presence. Nakilat now has ownership interest in 69 vessels, affirming our global leadership in energy transportation with the world's largest LNG fleet. The company's growth is a testament of our robust financial performance and strategic planning which has allowed us to further increase our fleet size and strengthen our international portfolio. This expansion comes as part of our efforts to maximize returns for our shareholders and support Qatar's industry leading position as the world's top LNG exporter."
Chairman of Maran Gas, Mr John Angelicoussis said, "We are immensely proud of our partnership with Nakilat, one of the global leaders in energy transportation. We are delighted at this opportunity to further strengthen our long-term strategic relationship. We look forward to working closely together in the future, continuing to strive to provide a first-class service to all our LNG customers."