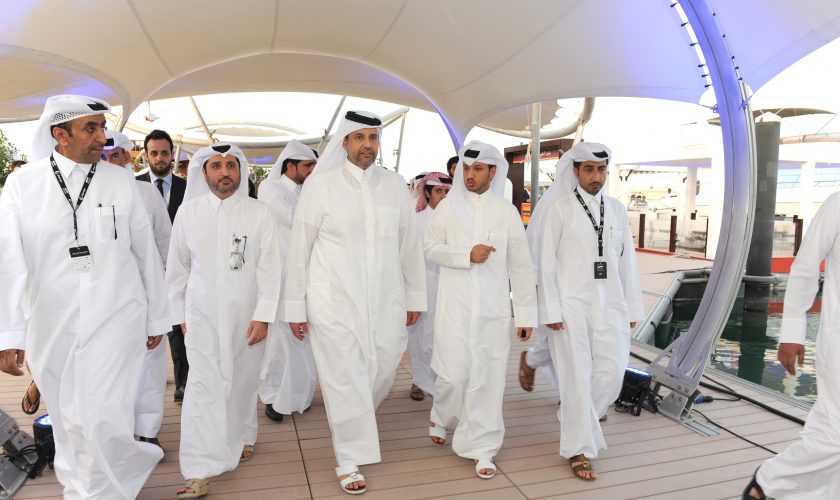 Nakilat Damen Shipyards Qatar showcases its premier national Shipyard at QIBS
16 November 2015
To demonstrate to the concerned sectors in the marine industry and to acquaint the interested public on its major activities and achievements, Qatari ship builder "Nakilat Damen Shipyards Qatar" (NDSQ) took part in the Qatar International Boat Show (QIBS 2015), exhibiting the company's remarkable achievements, by engaging with visitors at this important Qatari event. The event was held last week under the patronage of H.E. Sheikh Abdullah Bin Nasser Al Thani, the Prime Minister and Minister of Interior.
As a confirmation to the importance of the exhibition that was opened by H.E. Ahmed Bin Jassim Al Thani, Minister of Trade and Business, Nakilat Managing Director Eng. Abdullah Al Sulaiti highlighted the significance of NDSQ participation, saying: "We are excited to be welcomed back to the Qatar International Boat Show. As the exhibition's popularity continues to expand, its participators, exhibitors and customers are also growing at a rapid pace. As a Qatari marine company, we are honoured in celebrating our country's substantial role it has had in the marine industry. QIBS 2015 continues to bring greater exposure to our industry while simultaneously remaining an exemplification to the Qatar National Vision 2030"
As well as showcasing at the exhibition, NDSQ organised a yard tour to the VIPs, other guests and exhibitors at their facilities at "Erhama bin Jaber al Jalahma shipyard" in Ras Laffan to present the company's newest deliveries, latest designs and expansive resources. NDSQ first attended QIBS in 2013 as a visitor, and has increased the level of its participation each year, exhibiting at the event in 2014 and becoming a sponsor for this year's event.
During the opening event Her Excellency Yvette Burghgraef-van Eechoud, Dutch Ambassador to Qatar visited exhibition and company stand. I wish all success to NDSQ and to Qatar marine industry and I believe that all elements of success are centred under role of Nakilat and Erhama bin Jaber al Jalahma shipyard. This spirit would contribute to bring a positive development towards strengthening bilateral ties between Qatar and Netherland, mainly in diversifying Qatar's maritime industry.
NDSQ is a joint venture between Nakilat, Qatar's premier LNG shipping company, and Damen Shipyards, a leading Dutch ship builder. NDSQ produces an impressive range of vessels made in Qatar, and supports a variety of related maritime industries including interior fitters and vessel painters.
An estimated 85 boats were exhibited both in water and on land, whereas length measurement reached between 10 meters to 77 meters. NDSQ successfully delivered its 26th vessel this year, Al Nefayed, an ASD Tug boat, which joined the Nakilat SwitzerWijsmuller fleet and is already vital to its operations. NDSQ currently has 14 ongoing projects at the yard, contributing to the Qatari National Vision, providing vessels 100% made in Qatar.