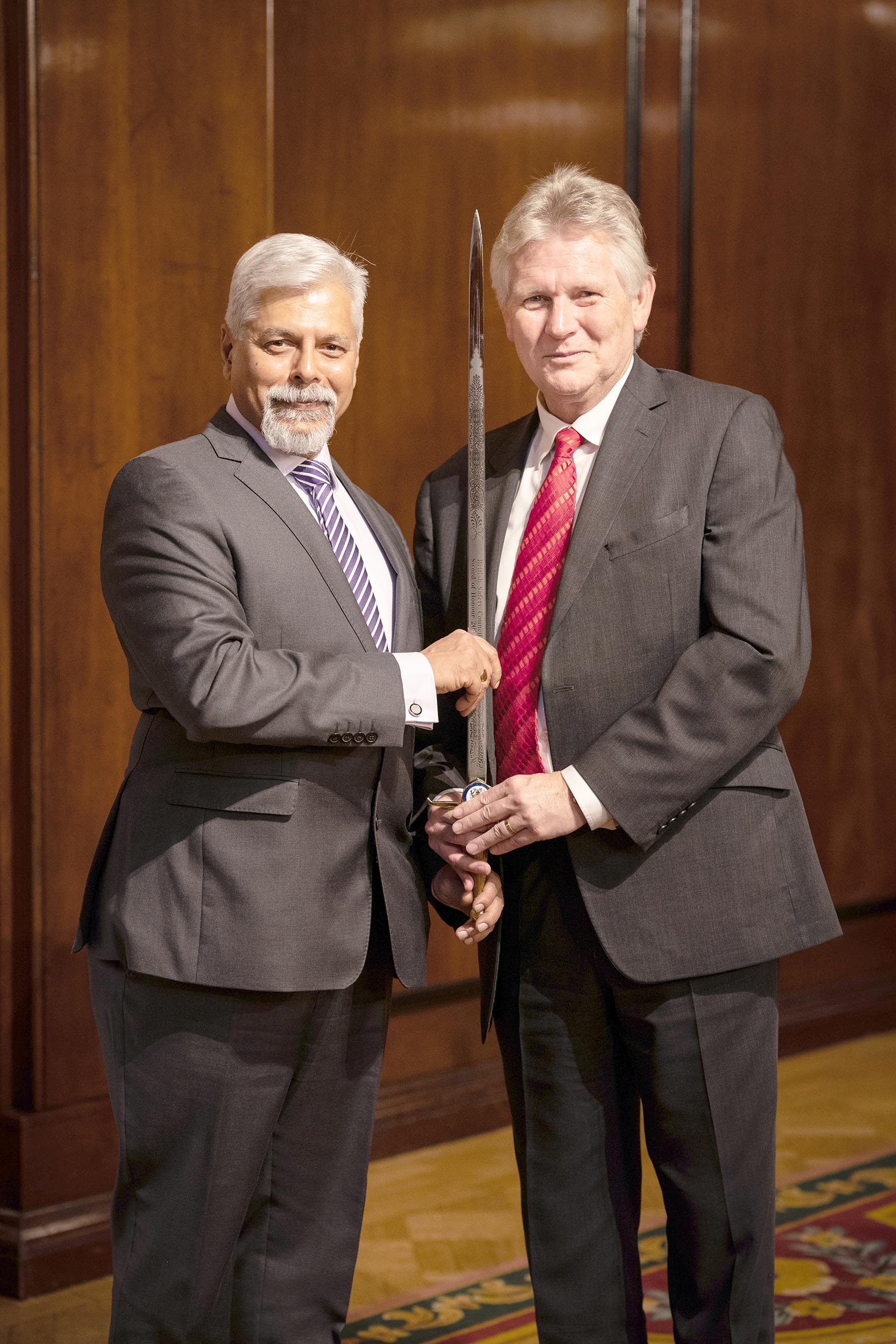 Nakilat Awarded 'Sword of Honour' from British Safety Council for Second Consecutive Year
27 November 2019
Nakilat has been awarded the 'Sword of Honour' by British Safety Council for the second consecutive year, a prestigious award for organisations that have reached the pinnacle of excellence in managing the company's health, safety and environmental risks. The ceremonial sword was received at a ceremony held recently in London.
Nakilat was one of 84 organisations worldwide that achieved a Sword of Honour, awarded to companies which have demonstrated excellence in the management of health and safety risks at work.
In order to compete for the Sword of Honour, the organisation first had to achieve the maximum five stars in the British Safety Council's health, safety and environmental management audit scheme in the period August 2018 – July 2019. Nakilat has also demonstrated to an independent panel of experts its excellence in health, safety and environmental management throughout the business – from the shopfloor to the boardroom.
Nakilat's Chief Executive Officer (CEO) Eng. Abdullah Al Sulaiti said: "This award is a proud moment for everyone at Nakilat. We are very pleased to receive this award for the second consecutive year. It bears testimony to our commitment to operate at the highest international standards and effectively manage occupational health, safety, environment, and employee well-being within the organization, as outlined in our mission statement to safely, reliably and efficiently provide shipping and maritime services.
We are raising the bar higher when it comes to managing occupational health and safety at Nakilat, by setting stringent targets and higher standards than benchmarked industry average. Our comprehensive incident and injury free (IIF) campaign is a clear indication of what can be achieved when we work together to ensure everyone gets home safe, be it our employees, clients or stakeholders. We appreciate the British Safety Council's work in promoting excellence in workplace health, safety and environmental management. Nakilat strives to balance the environmental and social needs aspects of sustainability, steered by excellence in safety and health to drive improvement in the workplace, as aligned with the values espoused in Qatar National Vision 2030 and our vision to be global leader and provider of choice for energy transportation and maritime services."
Lawrence Waterman, Chairman of the British Safety Council, said: "On behalf of the board of trustees and staff of the British Safety Council I would like to congratulate Nakilat on achieving the very highest standards of health, safety and environmental management.  Excellence at this level is very hard won. We are proud to have supported you in your achievements, and I am delighted that you have chosen to celebrate it with us today."