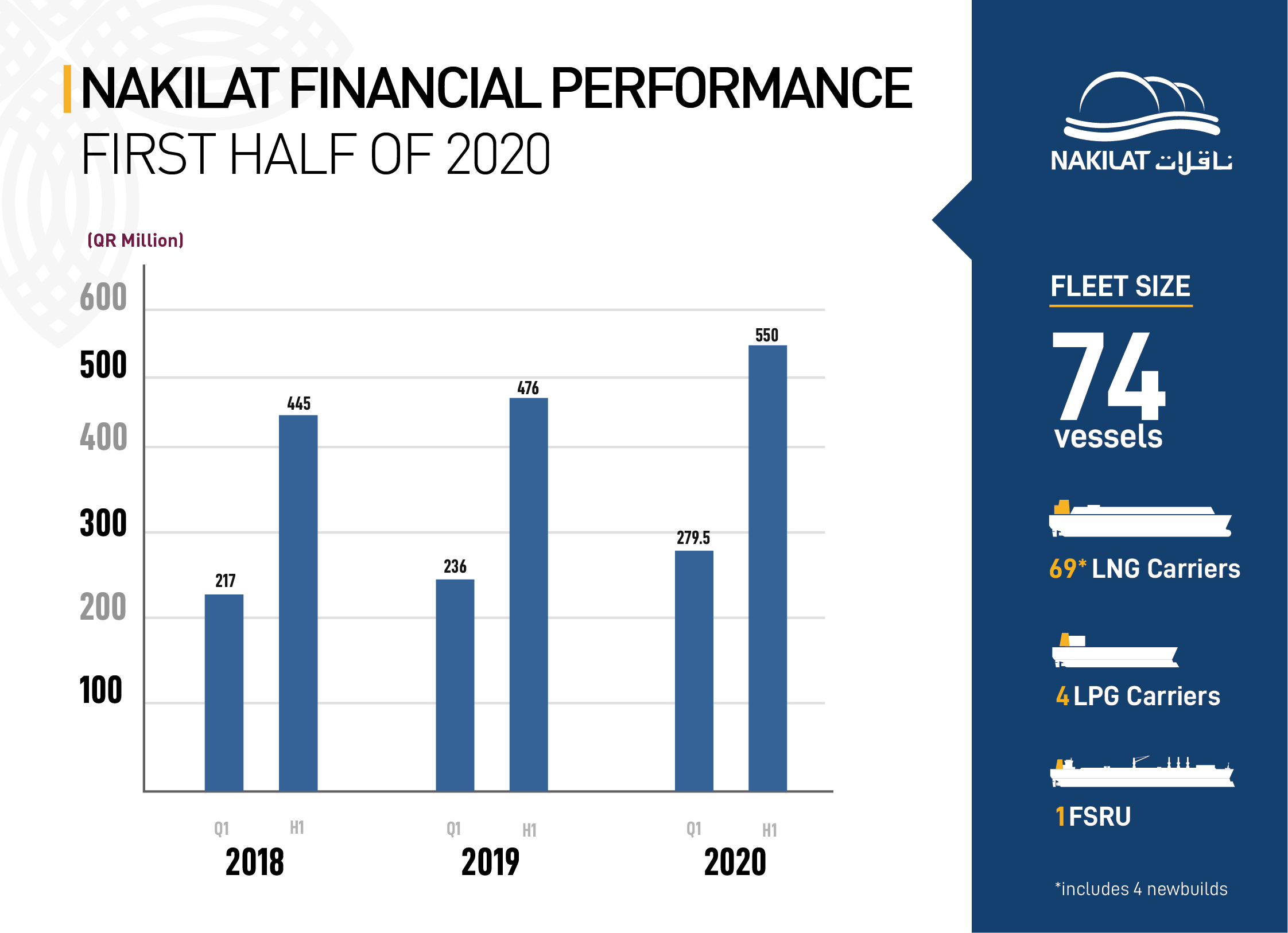 Nakilat announces 15.5% increased profits for the first half of 2020
15 July 2020
Nakilat announced its financial results for the first half of the year ended 30 June 2020, with the company achieving a net profit of QR 550 million compared to QR 476 million during the same period in 2019, an increase of 15.5%.
The company's strong financial performance is primarily attributed to operational excellence in the management of its entire fleet and realizing additional revenues from the strategic acquisition of the remaining 49.9% of four Q-Flexs vessels in October 2019.
Here are the key financial highlights from the first half of 2020:
Net profit of QAR 550 million, increase by 15.5%
Revenue of QAR 2,021 million, increase by 11.3%
General and administrative expenses decreased by 11.7%
Nakilat's solid financial performance is driven by long-term strategic plans towards achieving the company's goals, championed by the Board of Directors. Despite the ongoing challenges of the global pandemic, Nakilat continued to uphold operational excellence in the management of its Liquefied Natural Gas (LNG) and Liquefied Petroleum Gas (LPG) vessels and ensured no disruption to its business. This demonstrates the company's commitment to provide shipping and maritime services in a safe, reliable and efficient manner.
The successful commencement of Nakilat's second phase fleet management transition is among the main attributes to the positive financial results achieved, with two vessels transitioned in the last quarter. In addition, the company followed through its fleet expansion plans and took delivery of an LNG carrier newbuild, which will be commercially and technically managed in-house and chartered by Qatargas.
The delivery of all four newbuild LNG carriers by end-2021 will bring Nakilat's fleet to 74 vessels, which is about 12% of current global LNG fleet in carrying capacity. The company's steady expansion further highlights its robust financial performance and strategic planning, which comes as part of efforts to maximize returns for shareholders.
Nakilat Chief Executive Officer Eng. Abdullah Al Sulaiti said: "In these uncertain times, Nakilat remains committed in delivering value for our shareholders, as we expand our international outreach to meet the growing demand for energy transportation. The company's sustained financial performance bears testament to our ongoing strategy on enhancing efficiency, rationalizing expenditures, reduction of operational and administrative costs, as well as creating innovative solutions to uphold operational excellence in our services, without compromising safety and quality across our integrated operations. While we remain focused on achieving our strategic goals, we are also continually assessing the market and our current investments in relation to profitability to address any risk involved for the company and our shareholders. This allows us to navigate anticipated or unexpected challenges, to steer the company forward as a global leader and provider of choice for energy transportation and maritime services."
In-line with Nakilat's commitment on providing the best investor relations practices, the company will hold an investor relations conference call to discuss the company's financial results for the period ending on 30/06/2020 on Thursday 16th July 2020 at 13:30 (Doha Time). The Investor Relations presentation will be published on the company's website on Thursday 16th July 2020 before the earnings results conference call. For further information on Nakilat's conference call dial-in details, you can visit the company's URL: (www.nakilat.com)