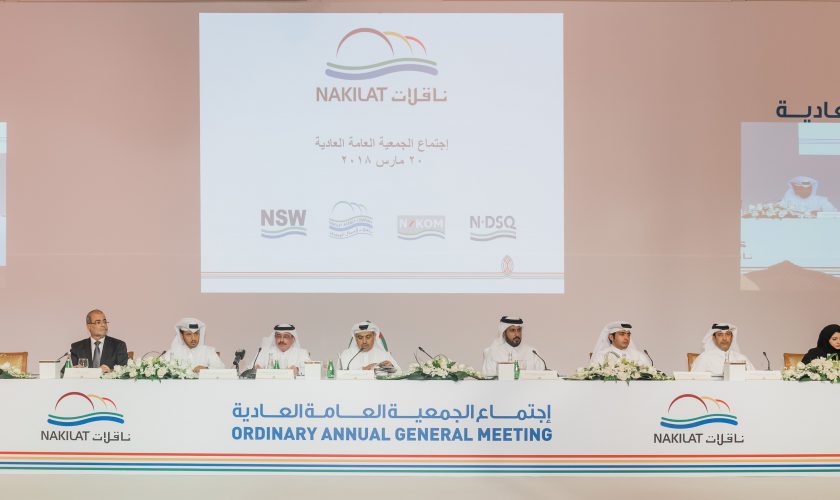 Nakilat holds Annual General Meeting for Shareholders
20 March 2018
Nakilat held its Annual General Meeting (AGM) chaired by Mr. Ahmad Saif Al-Sulaiti, The Vice Chairman of Nakilat's Board of Directors.
During the AGM, the Group's Financial Results were reviewed and approved for the year ended 31 December 2017, of which the company achieved a net profit of QR 847 million in 2017. All items on the agenda were also ratified during the AGM, including the proposal by the Board of Directors to distribute cash dividends to the shareholders equal to 10% of the nominal value of its capital, which is equivalent to "one Qatari Riyal" per share.
During the meeting, the Vice Chairman of Nakilat's Board of Directors presented an overview of the company's activities and financial results for 2017, along with an outlook for 2018.
The Vice Chairman highlighted that in 2017, Nakilat proved its resilience by successfully deploying strategic steps towards maintaining its global leadership in LNG transportation, and the integral role it plays in Qatar's LNG supply chain. The company reaffirmed its commitment to business excellence by taking calculated measures to ensure no interruptions or impact to its worldwide operations, and has not missed a single shipment worldwide even under the unjust blockade imposed on Qatar by neighboring countries and the challenges of the global energy industry. Nakilat prudently charted its course and pursued a long-term business consolidation and diversification strategy, which included the expansion of its ship management activities. The transition of ten additional LNG carriers to Nakilat's in-house managed fleet during the year has led to significant improvement in the company's fleet operational efficiency of 99.7% and reduction of operational costs.
The Vice Chairman also acknowledged Nakilat's steadfast commitment for the 2017 initiatives in creating a safe working environment, progressively elevating our safety standards and culture. In this regard, the Board highly commends all employees and stakeholders for their commitment and efforts at ensuring the creation of a safe working environment and upholding the organization's goal to be 'Incident and Injury Free'.
Nakilat Chief Executive Officer Eng. Abdullah Fadhalah Al Sulaiti said: "Nakilat's steady financial results is a true reflection of the company's strength and resilience. Notwithstanding the challenging business environment, the company successfully capitalized on profitable growth opportunities and pursued cost optimization initiatives to achieve cost efficiency and greater synergy across the organization. This, coupled with our long-term agreements with well-established charterers, has allowed Nakilat to maintain a steady cashflow. Looking forward, we will continue to steer on steadily with our strategic business plans and effective risk management to continue delivering positive value to our shareholders, and towards achieving our vision to be a global leader and provider of choice for energy transportation and maritime services."
Nakilat's Board of Directors expressed their deepest gratitude to HH Sheikh Tamim Bin Hamad Al Thani, the Emir of the State of Qatar, and the Father Emir HH Sheikh Hamad bin Khalifa Al Thani, for their strong leadership and continuous support that has enabled Nakilat's growth into a diversified shipping and maritime company that significantly contributes towards the development of Qatar's maritime as well as oil and gas sector. The Board of Directors also extended their appreciation to Qatar Petroleum (QP) for its ongoing support of Nakilat's activities, QP Industrial Cities for its co-operation with the Erhama Bin Jaber Al Jalahma Shipyard, as well as Nakilat's partners, shareholders, management and employees for their continued dedication and support.