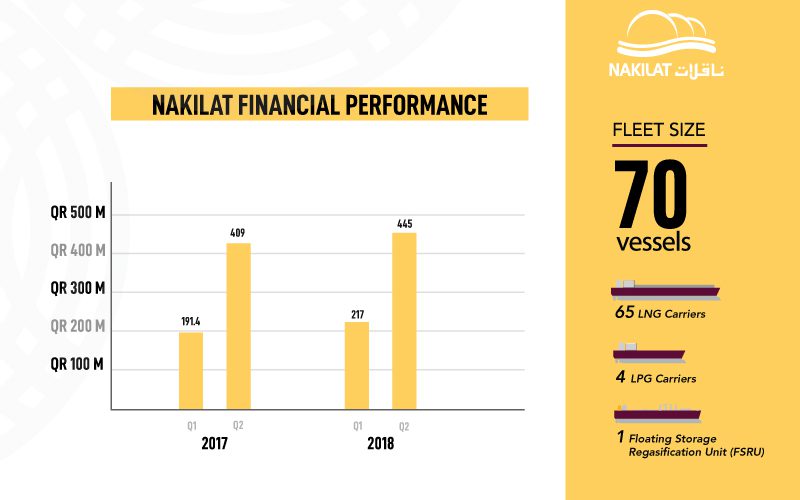 Nakilat achieves 9% increased profits for the first half of 2018
11 July 2018
Nakilat announced its financial results for the first half of the year ended 30 June 2018, with the company achieving a net profit of QR 445 million compared to QR 409 million during the same period in 2017, an increase of 9%. 
During the past year, there have been many positive developments across the company, despite the challenging market conditions in the maritime sector. Nakilat continued to pursue its long-term strategic goals through the expansion of its fleet with two additional LNG carriers earlier this year and more recently, acquired a major stake in its first floating storage regasification unit (FSRU). This significant milestone is in line with the company's plan to diversify and grow its business portfolio, with the aim to widen its international outreach and secure its industry-leading position in the dynamic and competitive LNG market. In addition, it opens a new horizon and business avenue for Nakilat to sustain its long-term growth and development strategies, which in turn will further maximize value and returns for our shareholders.
The financial results for the first half of this year is a reflection of the company's secured long-term agreements with financially strong charterers, which has enabled Nakilat to maintain a steady cashflow and generate positive value for its shareholders. The company's innovative cost optimization strategy and initiatives, as well as periodic repayment of loan principals, have resulted in reduced financing costs and enhanced efficiencies across its operations.
Commenting on the company's excellent results, Nakilat Chief Executive Officer Eng. Abdullah Al Sulaiti said: "Nakilat's commitment to deliver value for our shareholders and maintain our leadership in energy transportation have been the main driving forces behind the solid performance achieved today. The diversification of our fleet through the acquisition of our first FSRU paves a new business avenue for Nakilat to expand our outreach to developing and emerging markets, thereby enabling us to sustain our long-term growth and development strategies. While we remain focused on achieving our strategic goals, we are also continually assessing the market and our current investments in relation to profitability to address any risk involved for the company and our shareholders. This enables us to prudently navigate anticipated or unexpected challenges, in an effort to steer the company forward as a global leader and provider of choice for energy transportation and maritime services."