CEO Message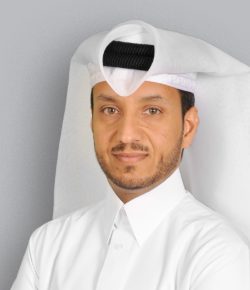 2021 proved to be a year that tested our true resilience and determination in striving for excellence, amidst the unprecedented COVID-19 global pandemic that created very challenging conditions across the global shipping and maritime industry. Our business continuity plans were put to the test, along with the mettle of our people in facing adversity. I am proud to say that we have weathered the storm and emerged stronger, continuing to pursue operational excellence and following through our long-term growth strategies as we strive towards our vision.
Our excellent financial performance in 2021 is the direct result of our concerted efforts and commitment to deliver value to our stakeholders and customers with a net profit of QR 1,354 million achieved, a 16.7% increase against the previous year at QR 1,161 million.
The year witnessed further expansion of our ship management capabilities with the addition of two newbuild LNG vessels to our in-house commercial and technical management – "Global Star" and "Global Sea Spirit". Featuring advanced safety, containment and propulsion technology, these vessels will allow us to provide greater fleet capacity and flexibility to our customers and significantly contribute to our efforts to reduce our carbon footprint and operate in a sustainable manner as we continue to grow our global shipping fleet.
Strategic alliance with renowned partners has been fundamental to our success and we are always looking for opportunities to grow our international presence, diversify our business portfolio and maximize returns for our shareholders. Staying true to this, Nakilat is exploring options and expanding its presence in the international Floating Storage Regasification Units (FSRU) market, one of the fastest growing LNG business segments in recent years. Nakilat is tactfully capitalizing on our own expertise in LNG transportation to explore possible collaborations in this sector, which would give us a greater competitive edge in the dynamic global LNG market.
With the ongoing pandemic dictating the way we work and live for most part of the year, Nakilat remained strongly committed and focused to ensure the health, safety and wellbeing of our people. We continued to implement extensive safety and hygiene measures in line with the governmental regulations by adopting remote working, physical distancing and investments across our digital infrastructure, systems, and security enhancements at our worksites and onboard our vessels. I applaud the incredible energy put forward by the team in the face of such adversity to safeguard the lives of our people, safety of our workplace, and integrity of our operations. Our efforts did not go unnoticed as Nakilat was awarded the 'Sword of Honour' for the third consecutive year by the British Safety Council (BSC) for excellence in safety, health and environmental management.
Sustainability is at the very heart of our operations at Nakilat and plays a big part in how we conduct our business. We published our first ESG report in 2021, which has been meticulously developed in alignment with the goals espoused by Qatar National Vision 2030 and the United Nations Sustainable Development Goals (UNSDG). The launching of our 2020 ESG report is an essential step in complementing the company's efforts in operating transparently and responsibly. The report highlights the various ways in which we are enabling sustainable growth across our operations to positively impact our people, the community and environment, while creating value for our stakeholders and shareholders.
Nakilat was presented with the Annual Qatarization Crystal Award for 'Supporting Qatarization' at the Energy sector's 2020 Strategic Qatarization Plan ceremony, bearing testament to our prudent efforts to create a sustainable talent pipeline for the country. We also initiated a joint development project (JDP) to elevate software reliability and maintenance during vessel operations and launched a Recommended Practice (RP) for the shipping industry, in collaboration with partners DNV, leading yards and suppliers. As a responsible organization, we are keenly aware of the importance of giving back to society and preserving the natural environment and conduct a number of such community engagement and environmental initiatives throughout the year.
The management and I are grateful for the steadfast and relentless spirit shown by our people who pushed through these tumultuous times to uphold our mission to provide shipping and maritime services in a safe, reliable and efficient manner. I take this opportunity to give a special mention to all seafarers onboard our vessels who have persevered through difficult times and shown extraordinary determination in the face of all odds. Your passion and dedication have been truly inspirational and integral in keeping our global operations running smoothly.
As we move into a new normal, there is still much uncertainty that lies ahead. With the tenacity that our people have shown and solid foundations of our vision, mission and shared values, I am confident that we will be able to handle any challenge the future may bring. Moving forward, we will continue to capitalize on growth opportunities and deliver value for our shareholders while scaling new heights to firmly establish ourselves as a global leader in energy transportation and maritime services.
Eng Abdullah Al Sulaiti
Chief Executive Officer
EXPLORE THE ANNUAL REPORT
Have a Question?
Contact our Investor Relations
team