Board of Directors Report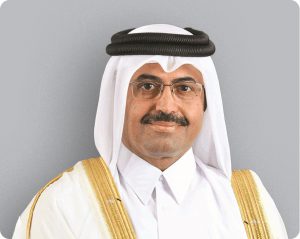 On behalf of Nakilat's Board of Directors, I am pleased to introduce Nakilat's 2021 Annual Report.
During the past year, the world continued to face exceptional adversity in the form of the COVID-19 pandemic, one that has reshaped our view of normal and posed unprecedented challenges to the global shipping and maritime industry. The passion and strength of our people shone through these difficult times. Nakilat remained resilient in continuing to build on our operational response to the pandemic, enabling us to adapt swiftly and ensure business continuity to create value for our shareholders and customers.
With a solid foundation in place, Nakilat has been steadfast in steering forward our vision to be the global leader in LNG transportation, whilst contributing towards the development of Qatar's shipping and maritime industry. The company stayed committed to achieving its vision and delivered many notable accomplishments during this challenging year.
Nakilat delivered clean energy to worldwide destinations without any interruptions, upholding our commitment to operational excellence and customer satisfaction. We followed through our expansion plans with the addition of two technologically advanced LNG carrier newbuilds this year, demonstrating our unflinching commitment to innovation, sustainability, and operational excellence. This will allow us to provide greater fleet capacity and flexibility to our customers and give us a significant competitive advantage in the energy transportation sector. Moreover, it contributes to our efforts to reduce our carbon footprint and operate sustainably as we grow our international shipping portfolio.
With a fleet strength of 74 vessels, Nakilat is one of the largest energy shipping companies. Our fleet comprises 69 LNG carriers, four large LPG carriers and one Floating Storage Regasification Unit (FSRU). Through our in-house ship management, Nakilat oversees the operations of 29 vessels, 24 LNG, four LPG carriers and one FSRU. The majority of Nakilat's vessels are fixed with long term charters to quality counterparties, hence securing steady and healthy cash flow for the company.
Our local joint ventures at the world-class Erhama Bin Jaber Al Jalahma Shipyard continue to add strategic value to Nakilat's operations. Our integrated maritime operations include ship repair, offshore fabrication as well as a range of maritime services, all of which contribute towards developing Qatar as a strategic shipping and maritime hub, in alignment with Qatar National Vision 2030.
Nakilat's integrated shipping and maritime operations include ship repair, offshore fabrication as well as diverse maritime services, all of which contribute towards developing Qatar as a strategic shipping and maritime hub.
The Board is pleased to highlight achievements of our joint ventures this year:
N-KOM completed more than 150 repairs for various types of marine vessels and over 27 offshore and industrial engineering projects
NSW achieved 11 million exposure hours LTI free
NAC commemorated 16 years of operations, offering 24/7 agency services to 64,000 vessels in 2021 without any service failures and Lost Time Incidents (LTIs)
With COVID-19 still prevalent throughout 2021, we continued to take a 'people first philosophy' to safeguard our most vital assets – our people. From ensuring a safe workplace to protecting the health of our workforce, we spared no effort in taking all required measures to prevent the spread of the virus and reduce risks to all our employees, contractors and visitors, be it at the office or onboard our vessels.
Climate change was a topic of much discussion in the industry this year and one that resonates with Nakilat's mission to protect the environment we operate in. Part of good governance entails transparent reporting, and this year, we were pleased to launch our inaugural Environmental, Social, and Governance (ESG) Report. The report highlights our continuous commitment and vision to enable sustainable growth in communities around the world.
Our business continuity preparedness was proven for another year yet, with our ability to remotely work from home while delivering the same level of business excellence. Looking ahead, Nakilat's Board of Directors is committed towards upholding and implementing the highest standards of corporate governance as well as robust risk management, business continuity preparedness, and various internal measures throughout the organization. These integral components will further support the company's sustainable business growth, uphold our employees' wellbeing, and reinforce investors' confidence in the company.
Despite the unique challenges faced by the company, the Board of Directors commends Nakilat for continuing to deliver robust financial performance and sustained operational excellence in 2021. With significant accomplishments achieved this past year, I am pleased to announce that we have achieved a net profit of QR 1,354 million for the year 2021, a 16.7 % increase as compared to QR 1,161 million in 2020. As such, Nakilat's Board of Directors is pleased to recommend the General Assembly to distribute cash dividends equivalent to '0.12 Qatari Riyal' per share for the year 2021.
Nakilat's Board of Directors would like to express its gratitude to HH Sheikh Tamim Bin Hamad Al Thani, the Emir of the State of Qatar, and to HH Sheikh Hamad Bin Khalifa Al Thani, the Father Emir of the State of Qatar, for their wise leadership and vision that has enabled Nakilat's growth into a diversified shipping and maritime company that significantly contributes towards the development of Qatar's maritime as well as oil and gas sector.
The Board of Directors also offers its appreciation to HE Engineer Saad Sherida Al-Kaabi, Minister of State for Energy affairs, The President & CEO of QatarEnergy for the ongoing support of Nakilat's activities, including the Industrial Cities for the extended cooperation with the Erhama Bin Jaber Al Jalahma Shipyard.
We also extend appreciation to our long-term charterer Qatargas for their continued support towards Nakilat's operations. Finally, we would like to thank Nakilat's partners, shareholders, management, employees, Qatar Exchange and Qatar Financial Markets Authority (QFMA) for their continued dedication and support.
HE Dr. Mohammed Bin Saleh Al-Sada
Chairman of Nakilat Board
EXPLORE THE ANNUAL REPORT
Have a Question?
Contact our Investor Relations
team