Incredible facts YOU should know about NAKILAT!
1) NAKILAT MEANS "CARRIERS"
Nakilat 

( ناقلات ) 

means 'carriers' or 'transporters'.
Established in 2004, Nakilat is a Qatari-listed shipping and maritime company providing the essential transportation link in the State of Qatar's LNG supply chain, ensuring energy is delivered in a safe and efficient manner to worldwide destinations.
2) NAKILAT'S LNG FLEET IS THE LARGEST IN THE WORLD
Nakilat's LNG shipping fleet is the largest in the world, comprising of *69

LNG carriers

today (*include 4 newbuilds)
The company also jointly-owns 

one

floating storage and regasification unit (FSRU) and four large LPG carriers, typically known as very large gas carriers (VLGC).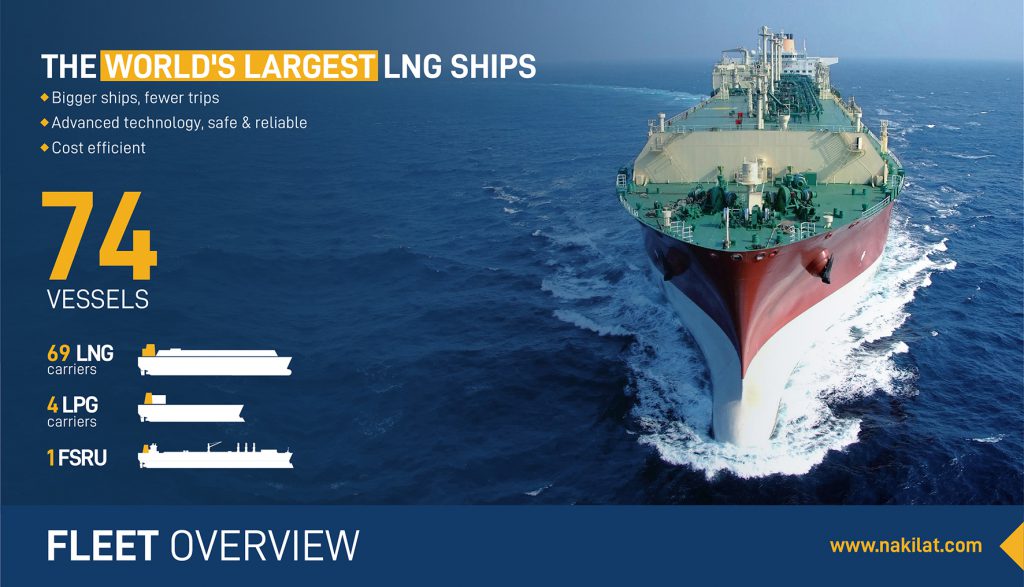 3) Q-MAX TYPE IS THE WORLD'S LARGEST LNG SHIP EVER BUILT!
Qatar's LNG shipping sector began with a total of 45 modern, sophisticated and technologically advanced LNG ships, 14 Q-Max and 31 Q-Flex constructed at three shipbuilding yards in South Korea.
The length of a Q-Max ship is 345 meters, about as tall as the Eiffel Tower and longer than three football fields, making it the biggest LNG ship ever built!
You can also watch a documentary made during sea trials of the largest LNG ship in the world!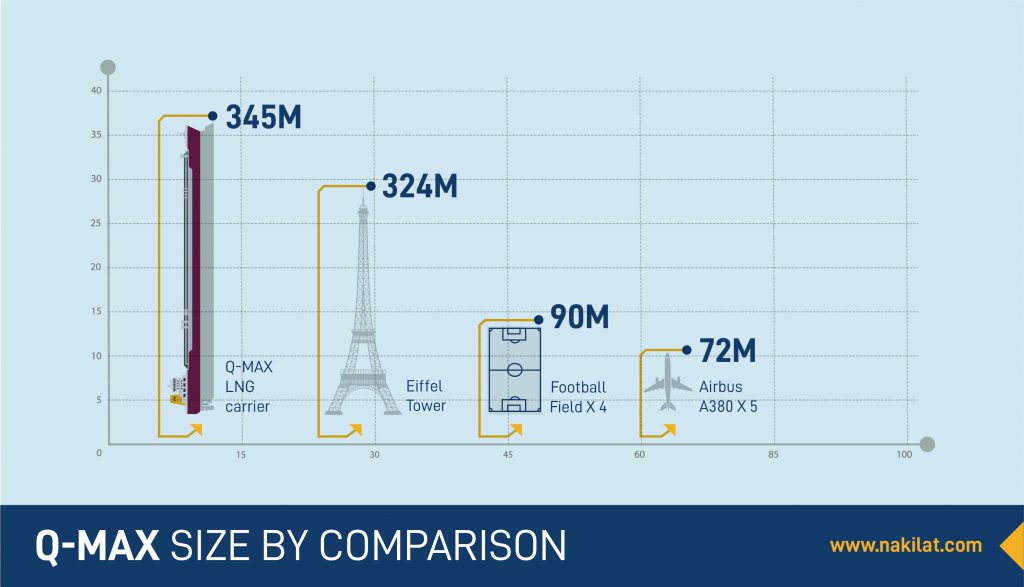 4) Q-MAX CAN CARRY 80% MORE CAPACITY THAN CONVENTIONAL LNG SHIPS!
Q-Max and Q-Flex type LNG carriers are the first of their kinds for gas carriers with a cargo-carrying capacity of over 200,000m3 which represents an industrial milestone for Qatar.
A Q-Max LNG ship can carry up to 266,000 m3 of LNG, which is 80% more capacity compared to a conventional LNG ship.
Similarly, a Q-Flex LNG ship can carry up to 216,000 m3 which is 50% more capacity than conventional LNG ships.
Bigger ships mean fewer trips are required to deliver energy to destinations!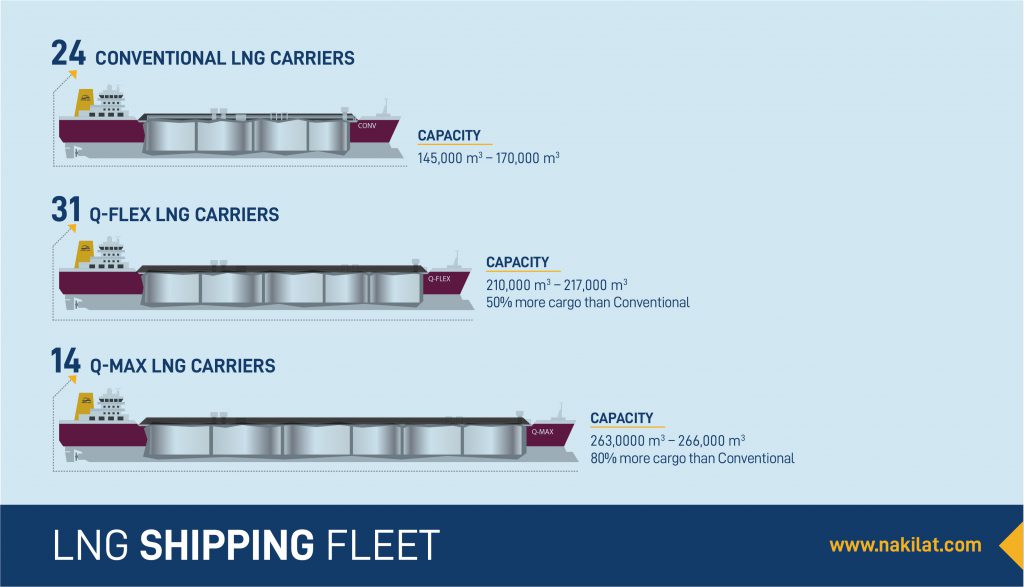 5) NAKILAT'S SHIPS CARRY OVER TWO-THIRDS OF QATAR'S LNG EXPORTS
Exporting about 78 million tonnes of LNG in 2018, the State of Qatar remains the world's largest LNG exporter.
Nakilat being a shipping arm of Qatar's LNG, delivered over two-thirds of Qatar's LNG exports across the oceans.
Nakilat's LNG ships currently carry about 11.5% of the global LNG capacity.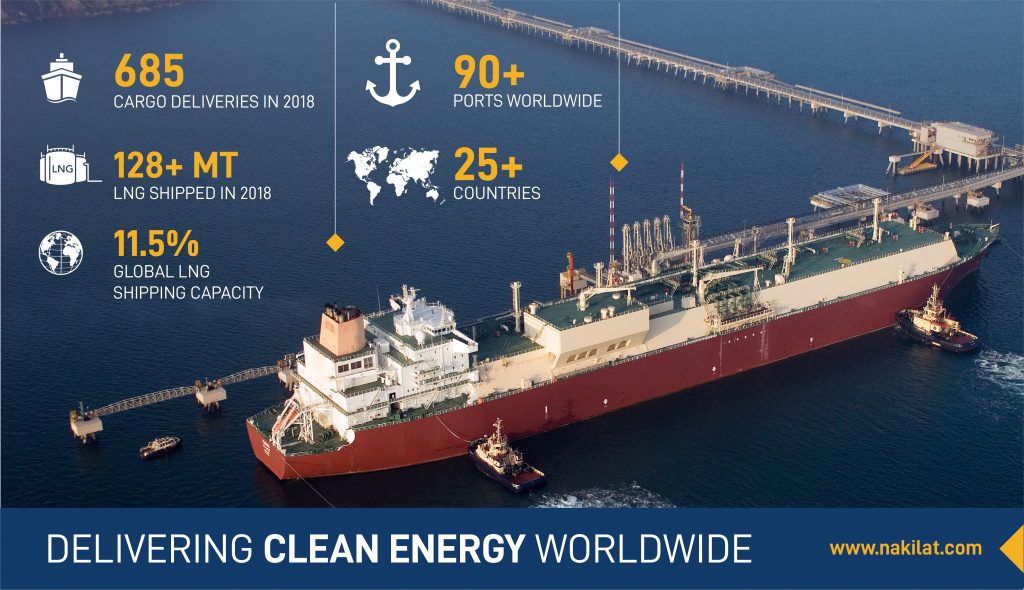 6) OUR SOPHISTICATED MODERN SHIPS ARE  HIGHLY EFFICIENT & ENVIRONMENTALLY SOUND
The sheer magnitude of a Q-Max ship marks a monumental change in LNG shipping by substantially reducing transportation costs by 20% – 30%, improve energy efficiency and reducing emissions.
Not only does the Q-Max ship carry up to 80 percent more cargo, but they also require approximately 40% less energy than conventional LNG carriers due to economies of scale and efficiency of the powerful engines.
These modern ships were a new breed of LNG tankers, considered as an industry breakthrough in size as well as design with significant enhancements.
All Nakilat vessels have received the 'Green Award' certification, and operate in accordance with international best practices as defined within the program.
Check out these basic features of a Q-Max or Q-Flex LNG carrier!