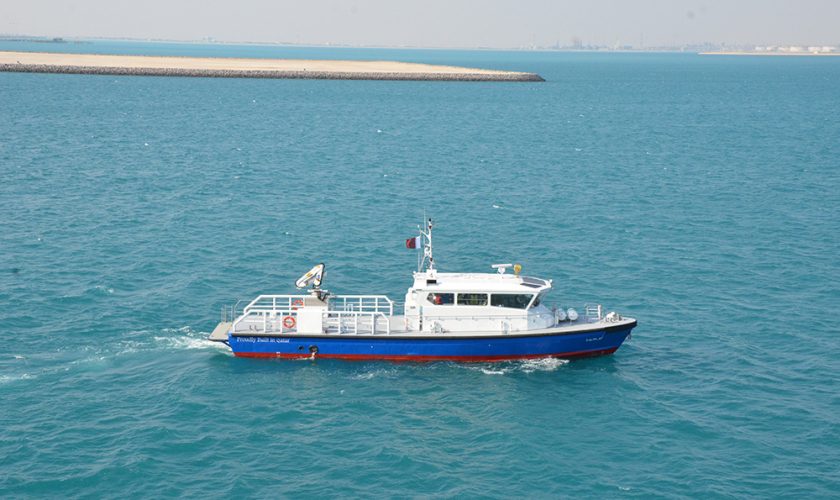 NDSQ celebrates another vessel delivery at Erhama Bin Jaber Al Jalahma Shipyard
12 January 2016
Nakilat Damen Shipyards Qatar (NDSQ) has delivered one new Qatari-built vessel to the State of Qatar.
After a successful performance during sea trials, a new support vessel has been delivered to the State of Qatar. Abu Hadeedah is based on the standard Damen Stan Tender 2606 design.
Eng. Abdullah Al-Sulaiti Nakilat Managing Director, said: "As a Qatari ship building company we are honored in celebrating the successful delivery of Abu Hadeedah. Nakilat and its joint ventures continues to play a substantial role in the marine industry. This project is a reflection of hard work incorporated with vision that has worked well on all levels: a build for a local client at Erhama Bin Jaber Al Jalahma Shipyard, based on a proven design. With this partnership, we will provide solutions and services in the maritime industry and we will be able to offer competitive products for this business that will in turn contribute to the achievements of Qatar National vision 2030.
The 26 meters long boat, with a beam of 6 meters, has the capacity to carry 4 crew and more of 8 personnel, cargo of 15 tonnes and has a maximum speed of 21.5 knots with an additional crane on deck for logistics purposes. The vessel's main purpose is to support day to day operations. Abu Hadeedah is the 27th successfully delivered vessel by NDSQ.
The layout provides passengers and crew with great comfort during passage and ensures maximum safety during support operations. Withal, the vessel has all-round visibility for passengers, a powerful air conditioning system, and is equipped with an extra freezer and refrigerator capacity on board. The design has been optimized to achieve the highest performance and durability.