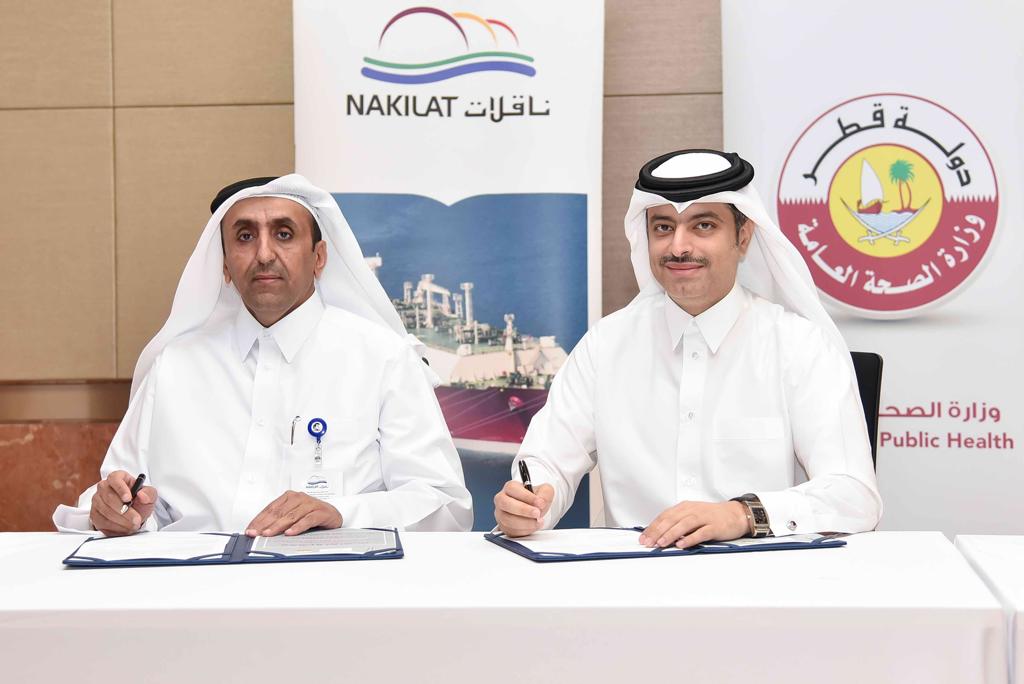 Nakilat signs MoU with Ministry of Public Health to Implement the Workplace Wellness Program
22 April 2019
Nakilat has signed a Memorandum of Understanding (MoU) with Qatar's Ministry of Public Health (MoPH) to implement the Workplace Wellness Program. Under the initiative, Nakilat will be coordinating with the MoPH to launch internal campaigns on health education and promoting a healthy lifestyle amongst its employees.
The MoU comes as part of Nakilat's comprehensive corporate social responsibility framework, which focuses on health, education, community and environment. The program is based on an integrated plan that includes surveys and feedback sessions, followed by informational and engagement sessions to raise awareness on nutrition, physical activity, smoking hazards, stress management and prevention of infectious diseases.
Nakilat Chief Administration Officer Rashid Hamad Al Marri said: "We are pleased to be partnering with the Ministry of Public Health to introduce the Workplace Wellness Programacross our organization. At Nakilat, we believe that health is an essential ingredient towards a happy and productive workforce. The signing of this MoU not only reaffirms Nakilat's commitment to employee wellbeing, but also strengthens our position as an employer of choice in Qatar and contribution towards the creation of a healthy society, as espoused within Qatar National Vision 2030."
During his opening remarks, Director of Public Health at MoPH, Sheikh Dr. Mohammed Hamad Al-Thani said: "The MoU and implementation of this program comes as part of the ministry's efforts to promote health awareness among the different segments of the society in Qatar. This initiative is in line with the objectives of the National Health Strategy of the State of Qatar, in promoting the health and well-being of Qatar's population".