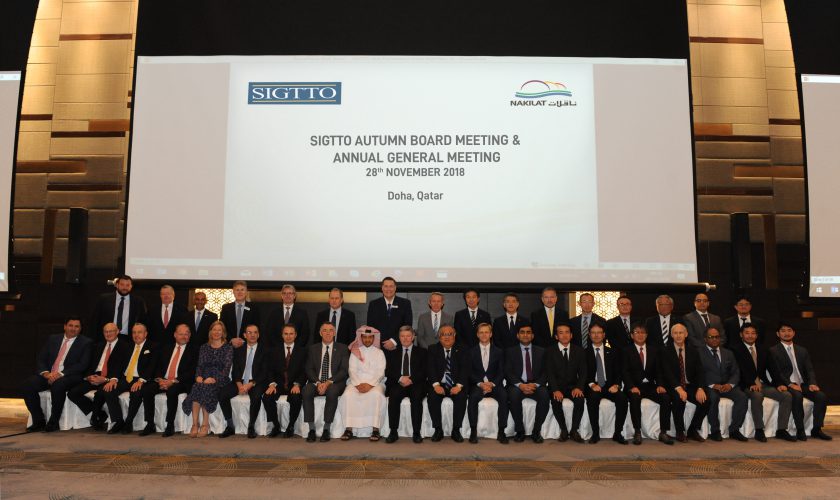 Nakilat hosts 2018 Autumn SIGGTO Board & AGM in Doha
28 November 2018 
Qatar hosted professional members of the Society of International Gas Tanker and Terminal Operators (SIGTTO) for their Board and Annual General Meeting (AGM) on 28 November 2018, with Nakilat proudly sponsoring the session in Doha.
SIGTTO is an international organization established to promote shipping and terminal operations for liquefied gases which are safe, environmentally responsible and reliable. In addition to hosting the event, Nakilat also participated in the meetings as the company's Chief Executive Officer Eng. Abdullah Al Sulaiti is an active Director of SIGTTO.
The State of Qatar has made significant enhancements in the LNG transportation industry, with Nakilat contributing to the improvements and supporting the increasing exports of LNG shipments, while ensuring compliance with the highest levels of safety, in accordance with international standards. Through hosting such international maritime events, Nakilat is also contributing towards the development of Qatar as a maritime hub and promoting the country as a preferred destination for such events.
As a company with one of the world's largest LNG fleet, Nakilat has been a SIGTTO member for over a decade. SIGTTO members substantially benefit from the affiliation through participation in significant forums on topics of mutual interest, access to technical advisers, as well as exclusive access to policies and latest information affecting the industry such as legislation, technical or operational developments, among others. The organization has more than 170 full and associate members, representing nearly all of the world's LNG business, and more than half the global LPG business.