Board of Directors Report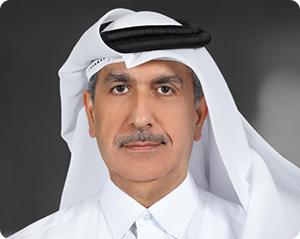 On behalf of Nakilat's Board of Directors, it is my distinct pleasure to introduce Nakilat's 2022 Annual Report.
2022 has been a year marked with major changes and challenges that have reshaped our industry. It has also been a year characterized by the strong financial performance of our company – a direct reflection of Nakilat's expansion strategy, admirable track-record and its operational excellence in energy transportation and maritime services. The company's resilience and the convergent efforts of its employees has enabled Nakilat's sustained growth momentum and business continuity, creating immense value for both its customers and shareholders.
As an increasingly important and strategic element of the global energy supply chain, Nakilat has maintained its track record of delivering clean energy without any interruptions. It has upheld its commitment to providing safe, reliable, and efficient shipping and maritime services globally, continuing its quest to expand and contribute towards its vision to be global leader and provider of choice for energy transportation and maritime services.
Nakilat played a pivotal role in enhancing its contribution to the international maritime industry and maritime trade, when Qatar was elected to the International Maritime Organization (IMO) Council in Category C during the IMO Assembly's 32nd session in London. The role of the shipping and maritime industry is becoming increasingly accentuated and indispensable; and Nakilat is proud to support Qatar make its mark on the global maritime stage.
With a solid sense of direction from the company's long-term expansion strategy and opportunities that re-emphasized Nakilat's importance in achieving its targets, the company has been smoothly sailing towards making significant contributions and notable accomplishments during this year.
Through the recent strategic expansion of Nakilat's fleet with an additional 4 LNG carriers, and the improved performance of its joint ventures and support services operating in the shipyard, Nakilat has achieved sustainable and long-term growth over the past year, demonstrating our commitment to innovative sustainability and operational excellence. This commitment has provided Nakilat with a greater fleet capacity and increased operational efficiency, providing us with a competitive edge in the LNG shipping sector, as the company expands its international shipping portfolio.
With a fleet strength of 74 vessels, one of the world's largest Liquefied Natural Gas (LNG) shipping fleet comprising of 69 LNG carriers, 4 LPG carriers and 1 Floating Storage Regasification Unit (FSRU), the company is backbone of the transportation link in Qatar's LNG supply chain. Our LNG fleet has a combined carrying capacity of over 9 million cubic meters, which is about 10% of the global LNG fleet carrying capacity. Through its dedicated in-house ship management, Nakilat operates 30 vessels, 25 LNG, 4 LPG carriers and 1 FSRU. The majority of Nakilat's vessels are fixed with long term charters to reputable counterparties, creating a steady and healthy cash flow for the company.

Supported by the world-class Erhama Bin Jaber Al Jalahma Shipyard, Nakilat's joint venture companies continue adding strategic value to our operations through dedicated services, including ship repair, offshore fabrication, as well as a range of maritime services, all of which contribute towards establishing Qatar as a shipping and maritime hub, in support of Qatar National Vision 2030.
The Board is pleased to highlight achievements of our joint ventures and subsidiaries this year:
N-KOM, completed 153 repairs for various types of marine vessels and 27 offshore/rig repair projects in 2022.
NSW achieved 13 million exposure hours LTI free in 2022.
NAC commemorated 17 years of operations, offering 24/7 shipping, logistics and marine services at all ports and terminals in Qatar. The company provided its services to more than 4000 vessels in 2022, without any service failures or Lost Time Incident (LTI)
QFAB was awarded the fabrication & assembly of WHP topsides (4nos), sensor tower platforms (2nos) and subsea structures, at the Qatargas North Field Expansion Project (NFXP).
As an organization dedicated to operational excellence, employees and crew safety and welfare are always at the top of Nakilat's agenda, particularly during the COVID-19 pandemic, through stringent measures and effective procedures to ensure the wellbeing of our staff, whether at the office or onboard our vessels. Additionally, our commitment to crew welfare is underscored through our diverse initiatives and responsiveness.
In line with the United Nations' Sustainable Development Goals (UN SDGs) and Qatar National Vision 2030, and driven by the pillars of transparency, Nakilat released its first 2020 ESG report outlining the company's focus areas in health and safety, climate changes and human capital management. The consequent release of Nakilat's 2021 ESG Report highlights our continuous commitment to sustainable development.
The Board of Directors commends Nakilat for its strong financial performance and operational excellence in 2022. We are pleased to announce Nakilat's net profit of QAR 1.44 billion for 2022, a 6.3% increase compared to QAR 1.35 billion in 2021. Considering our current financial performance and future business' growth opportunities over the upcoming years, Nakilat's Board of Directors is pleased to recommend to the General Assembly to distribute cash dividends of QAR 0.13 per share for the year 2022.
Nakilat's Board of Directors would like to express its deep gratitude to HH Sheikh Tamim Bin Hamad Al Thani, the Emir of the State of Qatar, and to HH Sheikh Hamad Bin Khalifa Al Thani, the Father Emir of the State of Qatar, for their visionary and inspiring leadership that have enabled Nakilat's growth into a diversified shipping and maritime services company that significantly contributes towards the development of Qatar's maritime and shipping sector.
The Board of Directors also offers its appreciation to HE Engineer Saad Sherida Al-Kaabi, Minister of State for Energy affairs, The President and CEO of QatarEnergy for the ongoing support of Nakilat's activities, including the Industrial Cities and extended cooperation with the Erhama Bin Jaber Al Jalahma Shipyard.
We also extend appreciation to our long-term main Charterer Qatargas for their continued support towards Nakilat's operations. Finally, we would like to thank Nakilat's partners, shareholders, management, employees, Qatar Stock Exchange (QSE) and Qatar Financial Markets Authority (QFMA) for their continued dedication and support.
MR. ABDULAZIZ AL-MUFTAH
Chairman of the Board
EXPLORE THE ANNUAL REPORT
Have a Question?
Contact our Investor Relations
team