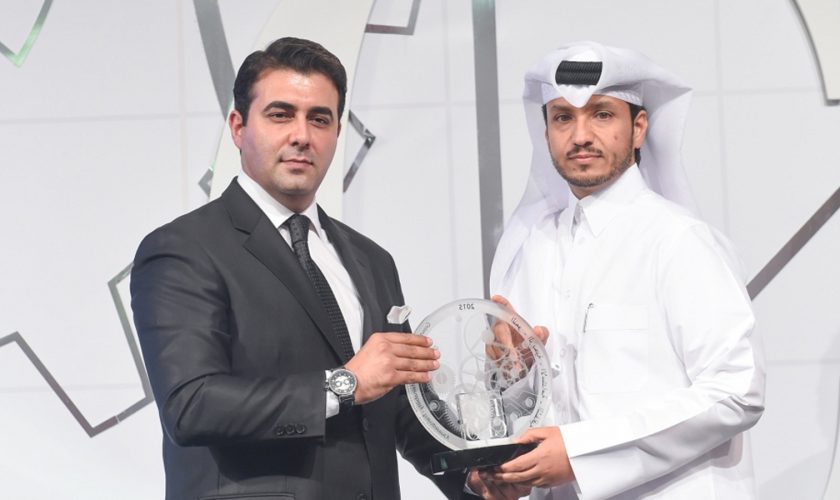 Nakilat's MD named one of Gulf's top CEOs
05 April 2017
Eng. Abdullah Al Sulaiti, Managing Director (MD) of Nakilat, has been honoured as one of the Gulf's top CEOs at the TOP CEO awards in Dubai. Mr. Al Sulaiti was recognised as one of Qatar's top 10 CEOs, coming in eighth among companies listed on the Qatar Exchange.
When all 700 companies from the region's seven stock exchanges were taken into account, Nakilat won 33rd place, a hugely impressive feat for the young company, which began trading only in 2004. Organised by Trends magazine and INSEAD Business School, the awards are audited by Deloitte.
Mr. Al Sulaiti said: "Nakilat's strategic and ambitious growth plan is achieving increasing recognition throughout the region. The expansion and consolidation of our shipping activities has been a major achievement for Nakilat in the last 12 months, and our fleet continues to be one of the world's youngest and largest. Our policy of recruiting and retaining talented and visionary employees from Qatar and beyond is the foundation of our continuing success, and this award is a recognition of the dedication our employees at all levels show on a daily basis."
"We announced record profits of QR895 million at our AGM in March, as Qatar's LNG industry continues to buck global trends. Nakilat made history once again in 2014, when we signed a deal with Qatar's New Port Project to build 11 vessels for use at the port, a landmark moment for the country's marine industry. Nakilat will continue its quest to expand and strengthen the State of Qatar's position as a world leader in LNG."
The Top CEO awards recognise outstanding company CEOs based on factors including growth, profitability, transparency and corporate governance. This was the first year that economies outside of the UAE and Saudi Arabia were included, as the award expanded to include all seven stock exchanges in the GCC.