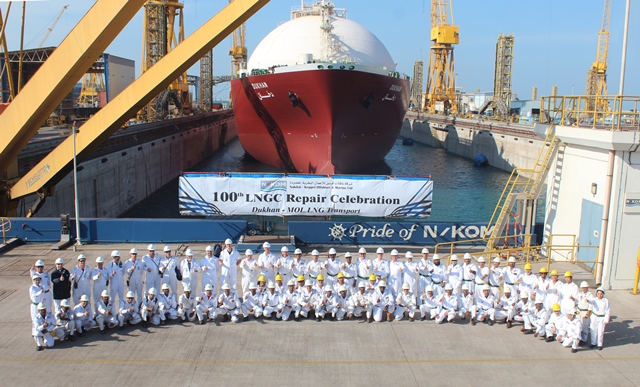 Nakilat Shipyard celebrates 100th LNG repair
02 February 2015
Nakilat-Keppel Offshore & Marine (N-KOM), Qatar's premier shipyard, has celebrated its 100th LNG carrier repair at Erhama Bin Jaber Al Jalahma Shipyard in Qatar.
The milestone is confirmation of N-KOM's position as a leading provider of repairs and maintenance to LNG carriers in the region. N-KOM's strengths include the might of its leading parent companies — Qatar's Nakilat and Singapore's Keppel Offshore & Marine — a high level of LNG carrier expertise and Erhama Bin Jaber Al Jalahma Shipyard's strategic location in Ras Laffan Industrial City.
Eng. Abdullah Fadhalah Al-Sulaiti, Chairman of N-KOM and Managing Director of Nakilat, said: "Nakilat is a world-leader in global gas transportation and we are proud that Nakilat's joint venture with Keppel Offshore & Marine has grown to become a leader in the repair of LNG carriers. The shipyard's continued success is part of our commitment to the sustainable diversification of Qatar's economy and to the Qatar National Vision 2030. On the occasion of this important milestone, we are deeply thankful to HE Dr. Mohammed Bin Saleh Al Sada, the Minister of Energy and Industry, for his invaluable guidance. We are also grateful to our stakeholders including QP for their ongoing support of Erhama Bin Jaber Al Jalahma Shipyard."
Chandru Rajwani, CEO of N-KOM, added: "N-KOM has successfully established itself as the region's leading service provider for gas carrier repairs and gas-related solutions within a short span of four years. This achievement today is testament to that. Moving forward, N-KOM will continue to deliver in a safe, quality and timely manner to our customers as we strive towards becoming not only a centre of excellence for gas carrier repairs but also the preferred shipyard delivering solutions."
The shipyard counts major industry players such as MOL, NYK, "K"-Line, Teekay, Pronav and Shell amongst its growing clientele today. In an effort to strengthen its service offering for sustainable solutions, the shipyard has signed an agreement to co-operate on LNG and gas solution projects. N-KOM is set to undertake the first ME-GI (Electronically Controlled–Gas) conversion of a Q-Max LNG carrier later this year, and is also involved in other engine retrofit projects for vessels to run on LNG fuel.