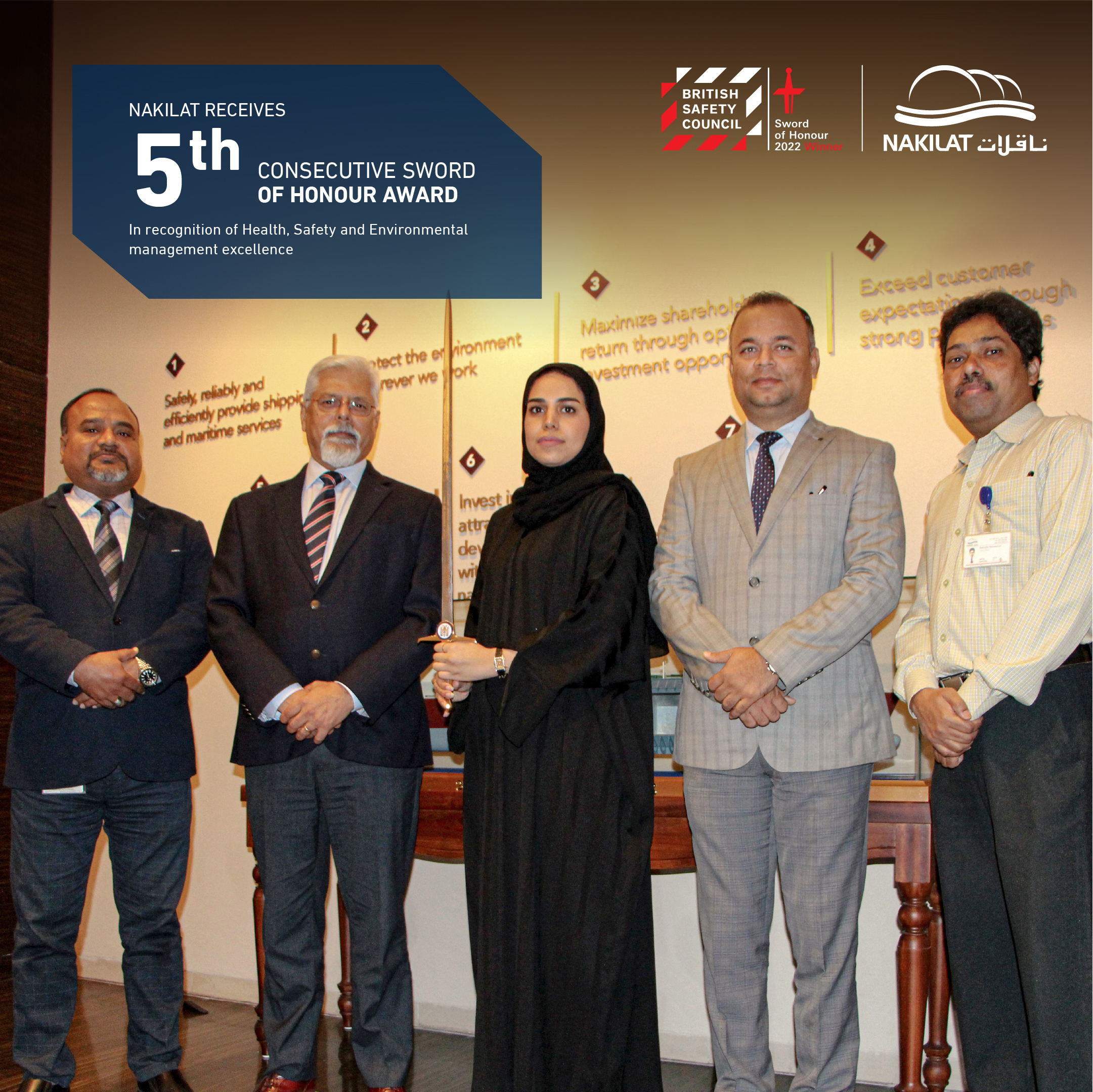 Nakilat awarded prestigious 'British Safety Council' Health and Safety Award
Doha, Qatar – January 31, 2023
Nakilat, the world's largest Liquefied Natural Gas (LNG) fleet owner, has been recognized with the prestigious 'Sword of Honour' from the British Safety Council for the fifth consecutive year.
Nakilat Chief Executive Officer, Eng. Abdullah Al-Sulaiti said: "Winning this award consecutively for the 5th time is a further testament to Nakilat's commitment to the wellbeing and safety of its staff, which is central to the success of our organization. Our Safety, Health, Environment and Quality team has robust and extensive systems, ensuring utmost priority in our staff's safety and environment protection.  We have procedures in place that allow us to act swiftly in response to any critical situation and ensure our operations remain uninterrupted, while keeping our personnel safe. My warm congratulations to the entire team for their dedication and hard work.''
Peter McGettrick, Chairman of the British Safety Council, said: "On behalf of the board of trustees and staff of the British Safety Council I would like to congratulate Nakilat on achieving the highest standards of health, safety and environmental management. Achieving recognition of this sort takes real dedication and absolute professionalism. We are proud to support your organisation in its achievement and delighted we can contribute to your ongoing success."
In order to compete for the Sword of Honour, Nakilat first had to achieve the maximum five stars in British Safety Council's health and safety management audit scheme. The organisation has also demonstrated to an independent panel of experts that it has achieved excellence in its health and safety throughout the business – from the shop floor to the boardroom. Since its establishment in 2004, Nakilat has evolved into a global leader and provider of choice for energy transportation and maritime services. With one of the world's largest LNG fleet of 69 LNG carriers, Nakilat also manages and operates one floating storage regasification unit (FSRU), and four very large LPG carriers (VLGCs). In addition, the company provides comprehensive ship repair and offshore fabrication services, shipping agency services, as well as towage and other marine support services through its JVs: Nakilat-Keppel Offshore & Marine (N-KOM), Qatar Fabrication Company (QFAB), Nakilat SvitzerWisjmuller (NSW), and Nakilat Agency Company Ltd. (NAC).