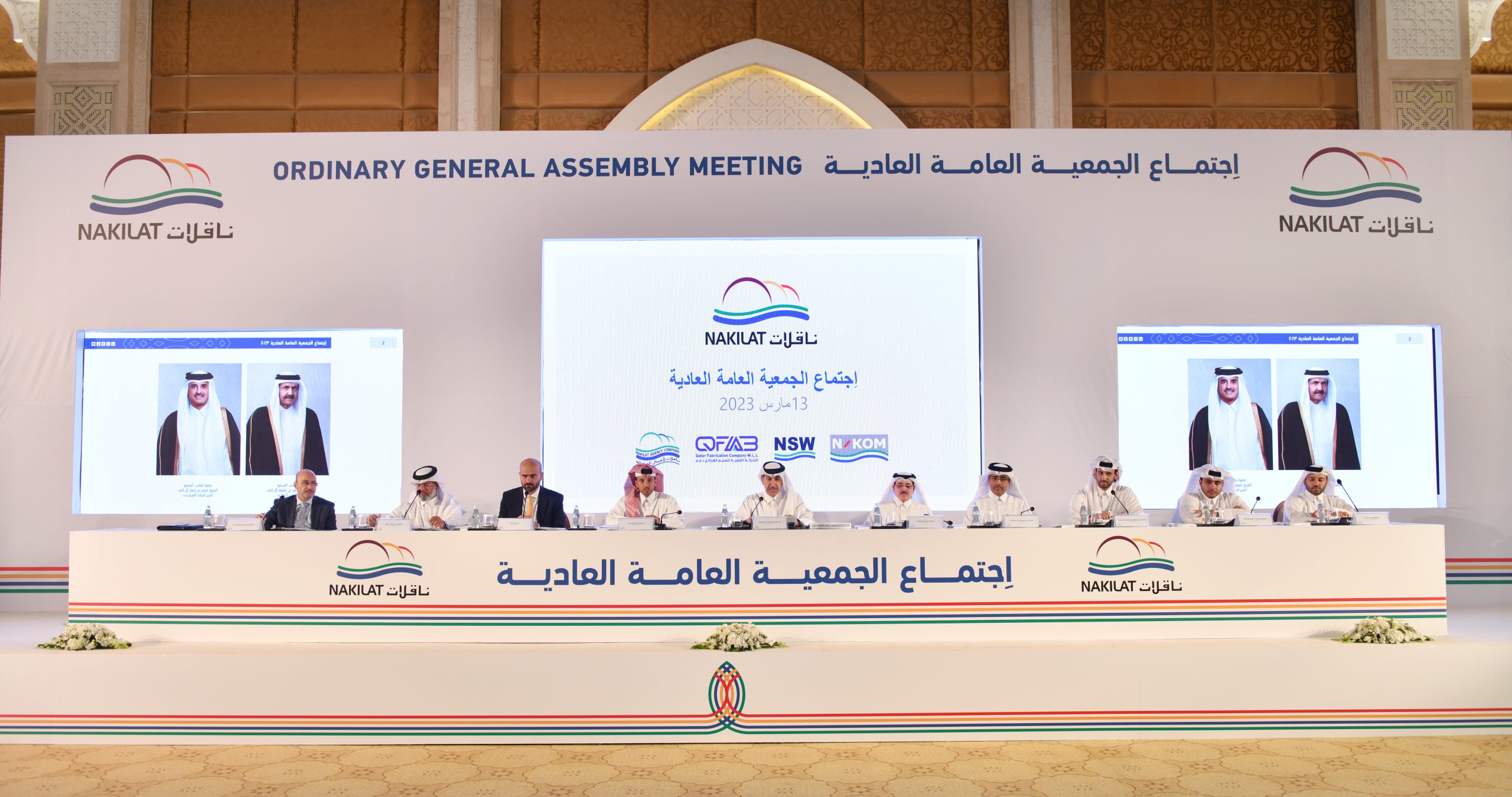 Nakilat holds Annual General Meeting for Shareholders
Doha, Qatar – 13 Mar 2023
Nakilat held its Annual General Meeting (AGM), chaired by Mr. Abdulaziz Jassim Al-Muftah, the Chairman of Nakilat's Board of Directors. During the AGM held at the Marsa Malaz Kempinski, the Pearl – Doha, the Group discussed the consolidated earnings results with a net profit of QAR 1.44 billion in 2022, highest since inception, an increase of 6.3% and key activities held in 2022.
The General Assembly approved the Group's financial statements for the year ended 31 December 2022 and a recommendation by the Board of Directors to distribute a cash dividend of 13% of the nominal share value (representing QR 0.13 per share). All items on the agenda were also approved during the AGM.
Following an overview of Nakilat's activities and financial results in 2022, the Chairman commended all employees of the company for their continuous efforts to achieving strong financial performance and sustainable operational excellence. The company's resilience and the convergent efforts has enabled Nakilat's sustained growth momentum and business continuity, creating immense value for both its customers and shareholders.
The company followed through its expansion plans with the delivery of "Global Sealine", a technologically advanced LNG carrier newbuild during the past year, demonstrating commitment to innovation, sustainability, and operational excellence. This allowed Nakilat to provide greater fleet capacity and flexibility to its customers and gave the company a significant competitive advantage in the energy transportation sector. Moreover, this contributed towards the company's efforts at reducing its carbon footprint and operating sustainably apace growing its international shipping portfolio.
Nakilat is not only continuously supporting and committing to reduce carbon emissions across the industry, but also applies industry best practices and supports different initiatives to address climate-related risks and opportunities. The company published its 2021 Environmental, Social, and Governance (ESG) Report, which is in-line with global international standards and received for the 2nd consecutive year an independent assurance by EY that enhances report's credibility towards all company's stakeholders and shareholders.
Nakilat Chief Executive Officer Eng. Abdullah Fadhalah Al Sulaiti said: "Despite all the challenges the world faced in 2022 by an unprecedented pace of rise in interest and inflation rates, Nakilat managed to overcome these fluctuations with the least impact on its financial performance, a clear indication of the strength and durability of our operational excellence in the field of energy transportation and marine services. The results were complimented by the efforts of our dedicated workforce and collaboration to achieve optimal value for our shareholders and customers. Through the recent strategic expansion of the company's fleet with an additional 4 LNG carriers, and the improved performance of its joint ventures operating in the drydock, demonstrating our commitment to innovative sustainability and operational excellence. The addition to our fleet has allowed Nakilat to increase its fleet capacity and increase operational efficiency, giving us a competitive advantage at a time when the company is expanding its portfolio in the global transportation market by constantly searching for growth opportunities that benefit its shareholders in the long term. As a final note, I would like to emphasize that we have revamped our ESG strategy in accordance with international standards and industry best practices. This ensures that Nakilat continue to meet the growing expectations to strengthen our ESG governance structure, actively mitigate environmental-related risks and explore new opportunities."
Nakilat's Board of Directors expressed their appreciation to H.E. Eng. Saad Sherida Al-Kaabi, Minister of State for Energy Affairs, Managing Director and CEO of QatarEnergy for its ongoing support of Nakilat's activities as well as its Industrial Cities Directorate for its co-operation with the Erhama Bin Jaber Al Jalahma Shipyard, and strategic partner and long-term charterer Qatargas in playing a significant role to ensure Nakilat's strong financial performance. The Board also extended their appreciation to all of Nakilat's partners, shareholders, management, employees, seafarers, Qatar Stock Exchange (QSE) and Qatar Financial Markets Authority (QFMA) for their continued dedication and support in 2022.