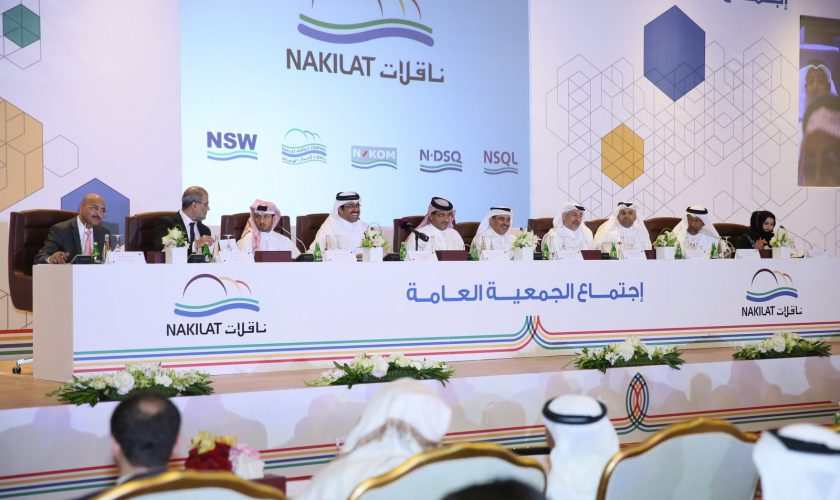 Nakilat AGM Highlights Strong 2014 Profits and Achievements
12 March 2015
Nakilat's Board of Directors discussed healthy profits and the increased dividend for shareholders at the company's Annual General Meeting (AGM) on 10th March. The meeting also ratified the Board's recommendation to distribute a cash dividend to the shareholders equal to 12% of the nominal value of its capital, which is equivalent to One Riyal and Twenty Dirhams per share. Attendees voted to support all of the resolutions that the Board of Directors proposed to the AGM.
Eng. Abdullah Fadhalah Al Sulaiti, Managing Director of Nakilat, said: "The expansion and consolidation of our shipping activities has been a major achievement for Nakilat in 2014. Highlights include the expansion of Nakilat's LNG fleet to 61 vessels in operation by mid-2015 N-KOM signed several significant contracts and has now completed more than 300 projects. NDSQ has finalised the delivery of 19 new-build vessels to Milaha, and delivered two new workboats as part of a seven-vessel order, and continues to work on the construction of the first two super-yachts ever to be built in Qatar."
The company's net profit for 2014 reached QR 895 million compared to QR 730 million achieved for the year 2013 – an increase of 23%. Nakilat has continued its quest to expand and strengthen the State of Qatar's position as a world leader in LNG. Nakilat's LNG fleet continues to be one of the world's youngest and largest.
The meeting also highlighted the growth, infrastructural developments, and exemplary safety record of Nakilat and its joint venture partners, ship repairer Nakilat-Keppel Offshore & Marine (N-KOM), and shipbuilder Nakilat Damen Shipyards Qatar (NDSQ).
Nakilat's Board of Directors expressed its deepest thanks to HH Sheikh Tamim Bin Hamad Al Thani, the Emir of the State of Qatar, and to HH Sheikh Hamad Bin Khalifa Al Thani, the Father Emir of the State of Qatar for the vision that has enabled Nakilat's development. The Board of Directors also offered its appreciation to Qatar Petroleum for its ongoing support of Nakilat's activities, and to QP Industrial Cities for its cooperation with Erhama Bin Jaber Al Jalahma Shipyard.