CEO Message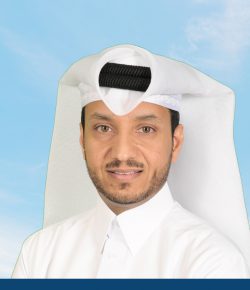 For this year in review, Nakilat has made great strides forward amidst the challenging market conditions and dynamic operating environment. Our journey of resilience, fortified by strategic approach, focused implementation and clarity of direction, ensure a shared understanding that brought all of us closer towards our vision to be a global leader and provider of choice for energy transportation and maritime services.
As a result of the successful implementation of our long-term growth strategies and various effective initiatives undertaken to drive robust operational performance, I am pleased that Nakilat has demonstrated steadfast financial performance for the year 2018 by achieving a net profit of QR 892 million, a 5.3% increase against the previous year at QR 847 million.
The year saw us further refining our business focus and laying down solid transformation foundations to leverage on a host of growth opportunities. The expansion of Nakilat's fleet to include two additional LNG vessels this year in joint venture partnership with Greek shipping company Maran Ventures Inc., has allowed us to strengthen our international portfolio. Strategic alliance with renowned partners has been fundamental to our success, and we are always looking for opportunities to grow our international presence and maximize returns for our shareholders.
In another historical milestone, Nakilat acquired a 55% interest in a floating storage regasification unit (FSRU), the first such unit to join our fleet. This acquisition is pivotal to the State of Qatar, as this is the first FSRU co-owned by a Qatari company, which paves the way for Qatari liquefied natural gas (LNG) to expand its outreach to developing and emerging markets. Venturing into the new horizon, Nakilat is continuously developing in-house capabilities to establish and develop know-how in the management of FSRUs.
I am pleased to report that Nakilat's joint venture companies have also performed well, supported by the encouraging demand for ship repair, retrofits and offshore fabrication at the world-class Erhama bin Jaber Al Jalahma shipyard. Nakilat-Keppel Offshore & Marine (N-KOM) has seen a steady growth in demand for tanker repairs and offshore fabrication at the facility, with it bagging a key contract to fabricate a brand-new offshore living quarter for an offshore complex, the first ever offshore living quarters ever to be fabricated in Qatar. Nakilat Damen Shipyard Qatar (NDSQ) also successfully delivered its first two luxury superyacht newbuilds, fully constructed in Qatar.
At the crux of Nakilat's efforts is the concentrated energy towards achieving excellence in safety, health, and environment management, as we strive to provide shipping and maritime services in a safe, reliable and efficient manner. We effectively affirmed our commitment towards compliance to the highest standards by becoming the first company in Qatar certified for the new ISO 45001:2018 Occupational Health and Safety Management System (OH&S) standard, issued by Lloyd's Register Quality Assurance.
In our first attempt at the Five Star Occupational Health and Safety Audit conducted by British Safety Council, Nakilat achieved the maximum 'Five Star' rating which allowed us to contend for and ultimately win the prestigious 'Sword of Honour' Award in 2018. This international recognition is awarded to companies that have reached the pinnacle of excellence in managing the company's health, safety and environmental risks. My heartfelt appreciation to the team for their passionate dedication to safeguard the lives of everyone at our workplace, and the integrity of all our assets and facilities.
Nakilat remains committed to creating intangible value for our shareholders and the community, bagging numerous awards and accolades for excellence in various business areas. We received the "Innovative Player of the Year" Award by The Oil & Gas Year (TO&GY), in recognition of the company's innovative pursuits towards sustainable growth and won our third consecutive CIO Award during the Global CIO Awards 2018 held in Doha, setting a benchmark in bringing new technologies onboard to remain competitive.
As a company, we continued to blaze new trails in sustainability development through several impactful corporate social responsibility (CSR) initiatives, which paved the way for our first 'Green Corporate' award at the Qatar Sustainability Awards 2018, in recognition of our efforts to inspire sustainability practices among our employees and the community.
At the heart of our operations is our highly capable workforce, driven by our shared values of safety, passion, integrity, respect and encouragement. The company's resilience is founded on the strong culture of continuous improvement and innovation across the organization. Together, we harness the unified strength within the Nakilat family through comprehensive learning and development designed to nurture future leaders. Our holistic approach in ensuring sustainable talent pipeline amongst our National employees was recognized, with Nakilat winning the Qatarization Award for 'Supporting Training & Development' at the Energy and Industry Sector's Annual Qatarization Review Meeting 2018.
Nakilat remains optimistic that with these solid foundations proven by great accomplishments, the company has gained the growth momentum to propel us forward from good to great in the upcoming years. The future holds much promise for Nakilat and we look forward to an exciting journey ahead, crossing the oceans to deliver clean energy across the world.
Eng Abdullah Al Sulaiti
Chief Executive Officer
EXPLORE THE ANNUAL REPORT
Downloads
Have a Question?
Contact our Investor Relations
team