Board of Director's Report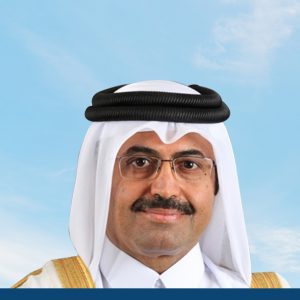 Dear Shareholders,
On behalf of Nakilat's Board of Directors, it is my pleasure to present to you the 2018 Nakilat Annual Report.
The Board is extremely pleased to acknowledge that Nakilat has been pushing the boundaries, implementing its numerous strategic long-term growth strategies by strengthening international presence, expanding its horizon through diversification strategies and pursuing operational excellence across the organization, in a bid to develop the State of Qatar as a strategic shipping and maritime hub.
Navigating through the unique challenges brought about by the ongoing blockade of Qatar, as well as the dynamic global energy and maritime market environment, Nakilat continues to deliver all its cargos without any interruptions or impact. Nakilat's solid foundation and consistent operational efficiency has allowed us to remain steadfast and resilient, steering forward its vision to be the global leader in LNG transportation whilst contributing towards the development of Qatar's shipping and maritime industry.
Over the last few years, Nakilat has taken on more ship management responsibilities and expanded its fleet, steadily growing from merely being a ship owner. The inclusion of two additional LNG vessels and a targeted acquisition of a Floating Storage and Regasification Unit (FSRU) into its fleet this year, was driven by a clear strategy that is focused on diversification and growth to deliver stronger financial performance. These acquisitions will ensure that Nakilat sustains its strong financial performance and continues to play an integral role in the country's industry-leading status as the world's largest exporter of clean energy.
With a fleet strength of 70 vessels, Nakilat now stands proud with one of the world's largest LNG fleet comprising of 65 LNG carriers, as well as four large LPG carriers and one Floating Storage Regasification Unit (FSRU). Through its in-house ship management, Nakilat oversees the operations of 18 vessels, comprising 14 LNG and 4 LPG carriers. The majority of Nakilat's vessels are fixed with long term charters to quality counterparties, hence securing steady and healthy cash flow for the company.
Leveraging on internal synergies of its local joint ventures housed at the world-class Erhama Bin Jaber Al Jalahma Shipyard in Ras Laffan gives Nakilat an added strategic advantage. The integrated services of ship repair, offshore construction, ship building, as well as comprehensive maritime services and 24-hour vessel support to various types of ships in local waters further adds value to its business and contributes towards elevating the country's maritime industry to greater heights, in alignment with Qatar National Vision 2030.
The Board is pleased to highlight accomplishments of our joint ventures since operations began:
N-KOM completed over 880 marine and offshore projects
NDSQ successfully delivered its first two newbuilds of fast luxury superyachts constructed at Erhama bin Jaber Al Jalahma Shipyard, completing a total of 66 newbuild and refit projects
NSW has undertaken an average of approximately 13,000 tug jobs per annum
NAC has attended to 4,000 vessel calls in 2018
The year 2018 has seen Nakilat placing greater emphasis and focus on building on a strong safety and corporate wellness culture, streamlining processes and operations towards cost efficiency, inspiring sustainability development among the community, and improving its approach in environmental stewardship. As such, the Board takes this opportunity to congratulate all employees at Nakilat for their dedication and efforts, which has enabled the company to achieve prestigious recognitions and accolades for demonstrating excellence in the areas of safety, health, environment, sustainability development, human capital and innovations at local and international levels.
Nakilat's Board of Directors shall continue to demonstrate unwavering commitment towards upholding and implementing the highest standards of corporate governance as well as robust risk management, business continuity preparedness, and various internal measures throughout the organization. These integral components further support the company's sustainable business growth, safeguard our employees' wellbeing and reputation, and reinforce investors' confidence in the company.
With significant accomplishments attained this past year, I am pleased to announce that we have achieved a net profit of QR 892 million for 2018, a 5.3% increase as compared to QR 847 million for 2017. As such, Nakilat's Board of Directors is pleased to recommend the General Assembly to distribute cash dividends equivalent to 'One Qatari Riyal' per share for the year 2018.
Nakilat's Board of Directors would like to express its gratitude to HH Sheikh Tamim Bin Hamad Al Thani, the Emir of the State of Qatar, and to HH Sheikh Hamad Bin Khalifa Al Thani, the Father Emir of the State of Qatar, for their wise leadership and vision that has enabled Nakilat's growth into a diversified shipping and maritime company that significantly contributes towards the development of Qatar's maritime as well as oil and gas sector.
The Board of Directors also offers its appreciation to Qatar Petroleum (QP) for its ongoing support of Nakilat's activities, and to QP Industrial Cities for its co-operation with the Erhama Bin Jaber Al Jalahma Shipyard. We also extend appreciation to our long-term charterer Qatargas for their continued support towards Nakilat's operations. Finally, we would also like to thank Nakilat's partners, shareholders, management, employees, Qatar Exchange and Qatar Financial Markets Authority (QFMA) for their continued dedication and support.
HE Dr. Mohammed Bin Saleh Al-Sada
Chairman of Nakilat
EXPLORE THE ANNUAL REPORT
Downloads
Have a Question?
Contact our Investor Relations
team