Sustainability at Nakilat
Nakilat and its joint ventures (JVs) are committed to Qatar National Vision 2030, which outlines the development of a sustainable future for the State of Qatar. As an organization, we conduct various safety and internal development programs to ensure the creation of a safe and reliable workforce, while our robust corporate social responsibility (CSR) framework aims to enrich the lives of local communities and preserve our natural environment.
Our sustainability commitment comprises several key elements, and among our highlights this year include:

The company's solid safety performance reflects the effort and dedication of staff both at sea and ashore. Nakilat's prime objective is to achieve an 'Incident and Injury Free (IIF)' work environment and our 2021 safety results greatly complement our commitment toward being IIF.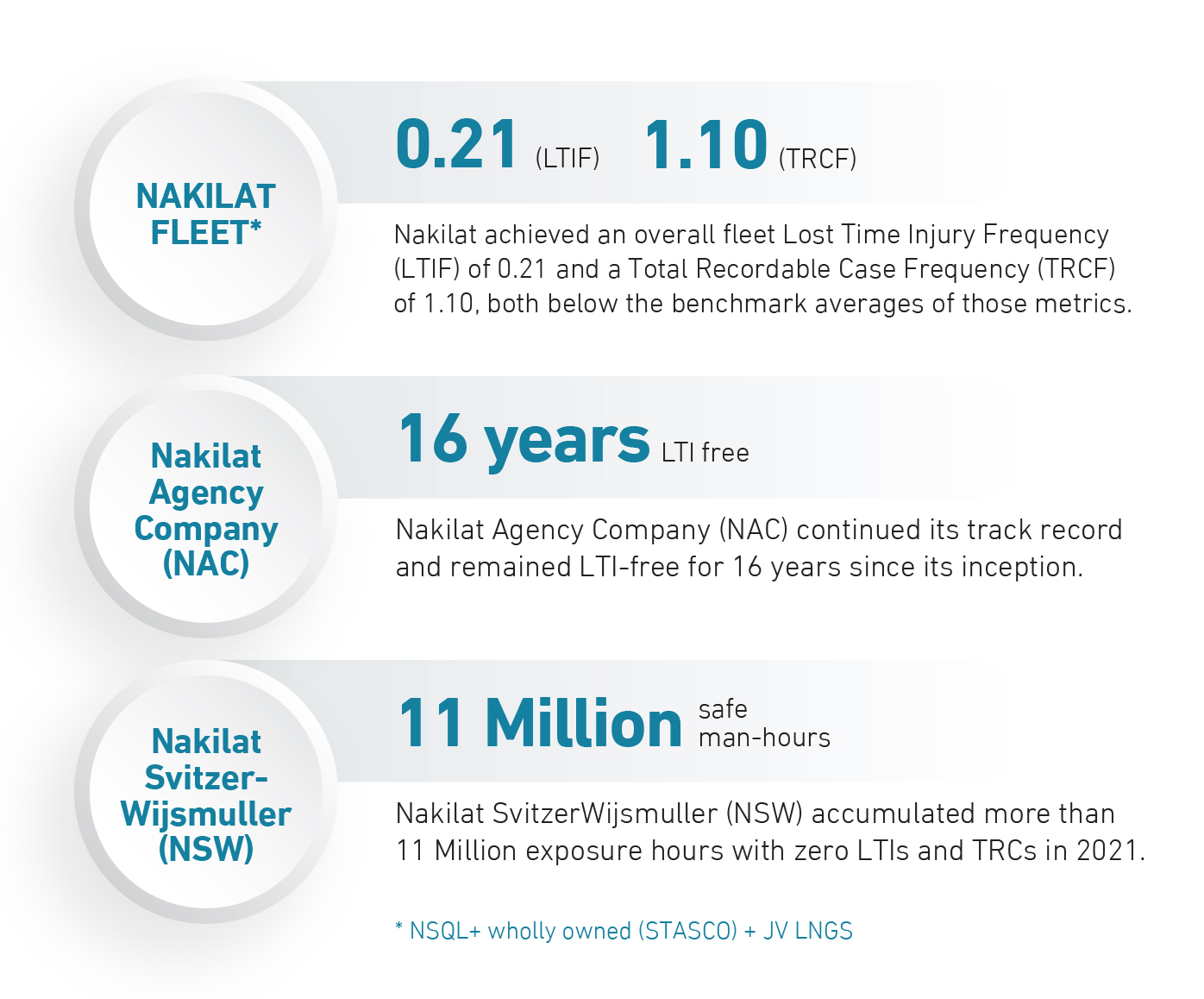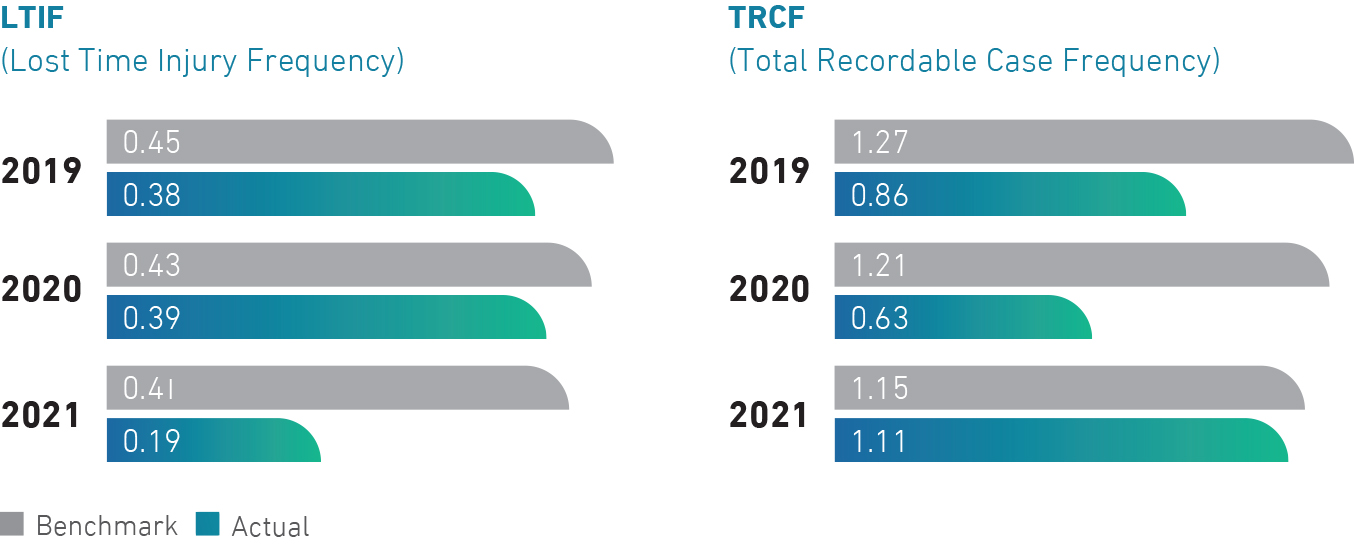 Ensured smooth operations while allowing phased introduction of staff working from office and finally reached 100 % during the last Quarter of 2021 in accordance with COVID-19 governmental guidelines.

Regular employee communications continued throughout 2021 as well on the latest COVID-19 guidelines and precautionary measures.

Temperature screening for all employees, contractors and visitors across all our facilities (HQ, shipyard, Employee accommodation, onboard the vessels) continued for most part of the year.

Face-to-face meetings restriction, encouraging employees to conduct virtual online meetings.

Provision of necessary PPEs and adequate supplies of hand sanitizers are made available at all our working sites.

Employee health declaration for all employees and contractors, including pre-embarkation for all seafarers.

Contact tracing of positive cases and isolation of suspected cases; immediate liaising with Communicable Disease Center (CDC) for conducting COVID-19 tests for all suspected cases.

Reinforce social distancing at all times; be it queuing during mealtimes, boarding transportation, or whilst on the transportation.
Professional and personal development of our most strategically important assets, our employees, remained in sharp focus during 2021. Nakilat continued to utilize our blended learning approach with the delivery of 97% of the training programs virtually. This is in response to the challenges posed by COVID-19, which restricted the utilization of in-person training sessions to critical safety courses only. This new strategy has significantly improved the efficiency of the training delivery model which gives more flexibility to our staff to complete training at times and locations convenient to them.
7,437 hours of training content was delivered by subject matter experts from external training consultancies as well as internal employees across all divisions.
We successfully extended our internal knowledge sharing program (NICE) with 35 sessions being conducted. A new Learning Academy was successfully launched in 2021 in partnership with LinkedIn Learning, providing over 10,000 courses and materials to staff supporting their competence development. New areas for Masterclasses and TED Talks have also been added, including enhanced learner reporting and metrics.
Nakilat continued to support the development of Nationals with its ICON21 Coaching program, comprising 63 hours of one-to-one performance coaching delivered to 8 young Qatari Nationals, as well as the creation of comprehensive Competence Development Plans for Nationals having completed the Career Development Center. In addition, a new dedicated training program on Personal Effectiveness in partnership with FranklinCovey Inc. was launched. The course provides 10 dedicated programs to Nationals to enhance their behavioural and professional competences, all of which are aligned to support their career goals and our Qatarization strategy. Over 255 courses have been delivered virtually during the year, fully utilizing the platforms and technologies at our disposal to ensure continued development of our employees.
In 2021, we continued our focus on developing the next level of leaders in our business through our succession planning process, which culminated in an agreed succession plan for 2021 for Nakilat. Facilitated by the creation of bespoke development plans for each successor, their advancement and growth will be the key focus for 2021, principally with the launch of our extensive and comprehensive Leadership Development Program.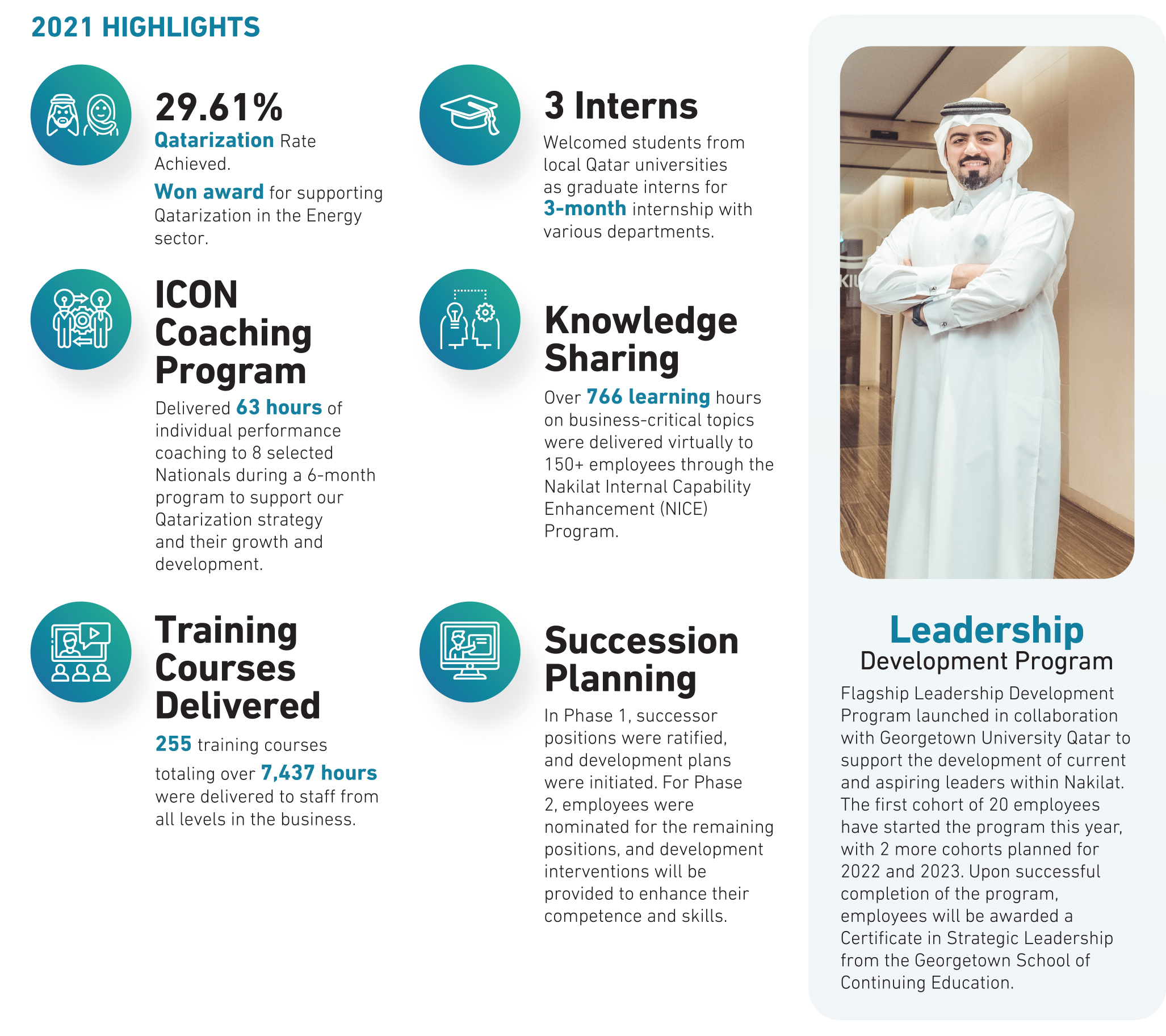 EXPLORE THE ANNUAL REPORT
Have a Question?
Contact our Investor Relations
team