Sustainability at Nakilat
Nakilat and its joint ventures (JVs) are committed to Qatar National Vision 2030, which outlines the development of a sustainable future for the State of Qatar. As an organization, we conduct various safety and internal development programs to ensure the creation of a safe and reliable workforce, while our robust corporate social responsibility (CSR) framework aims to enrich the lives of local communities and preserve our natural environment.
Our sustainability commitment comprises several key elements, and among our highlights this year include:

The company's solid safety performance reflects the effort and dedication of staff both at sea and ashore. Nakilat's prime objective is to achieve an 'Incident and Injury Free (IIF)' work environment and our 2020 safety results greatly complement our commitment toward being IIF.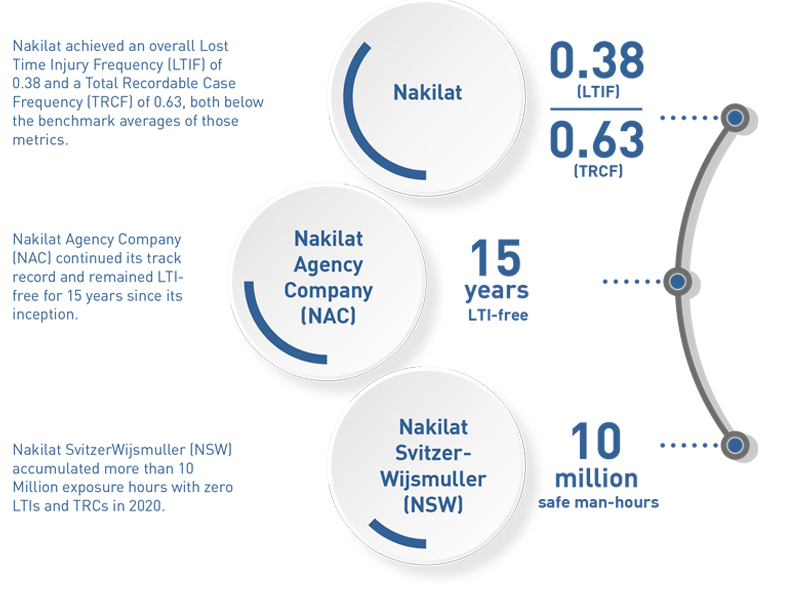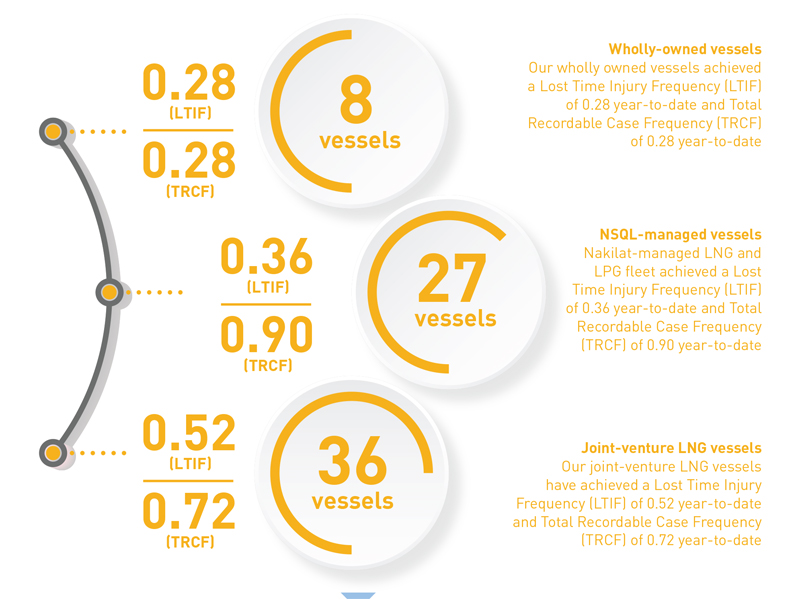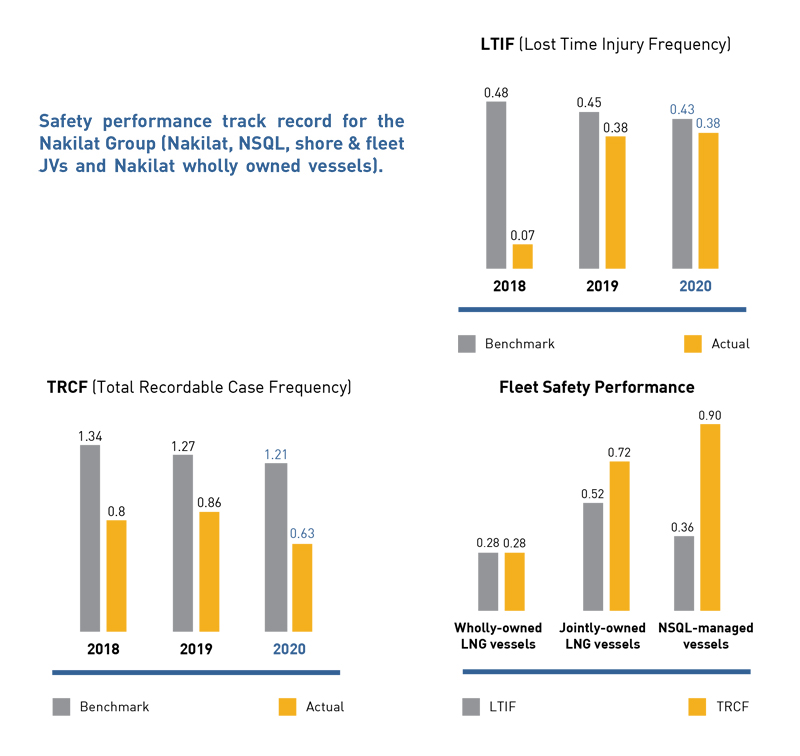 Ensured smooth operations while maintaining 20% workforce in the office, in accordance with COVID-19 governmental guidelines

Regular employee communications on the latest COVID-19 guidelines and precautionary measures

Temperature screening for all employees, contractors and visitors across all our facilities (HQ, shipyard, Employee accommodation, onboard the vessels)

Face-to-face meetings restriction, encouraging employees to conduct virtual online meetings

Provision of necessary PPEs and adequate supplies of hand sanitizers are made available at all our working sites

Regular and thorough disinfection exercise the employees' accommodations, workshops and all around the workplace areas

Employee health declaration for all employees and contractors, including pre-embarkation for all seafarers

Activation of special work arrangement for employees to work from home

Contact tracing of positive cases and isolation of suspected cases; immediate liaising with Communicable Disease Center (CDC) for conducting COVID-19 tests for all suspected cases

Personnel movement restriction to essential areas only at the shipyard

Reinforce social distancing at all times; be it queuing during meal time, boarding transportation, or whilst on the transportation

Mandatory installation of EHTERAZ application on all employees phones to support the country's efforts in combating COVID-19

Organized a Seasonal Influenza Vaccination drive for staff at company HQ

Held awareness sessions for employees on mental health and coping during COVID-19
"Nakilat's fleet maintained a COVID-free status throughout 2020, including throughout all crew changes. We continue to place the highest priority on the health & safety of our workforce, as well as protection of the environment and our assets wherever the company operates."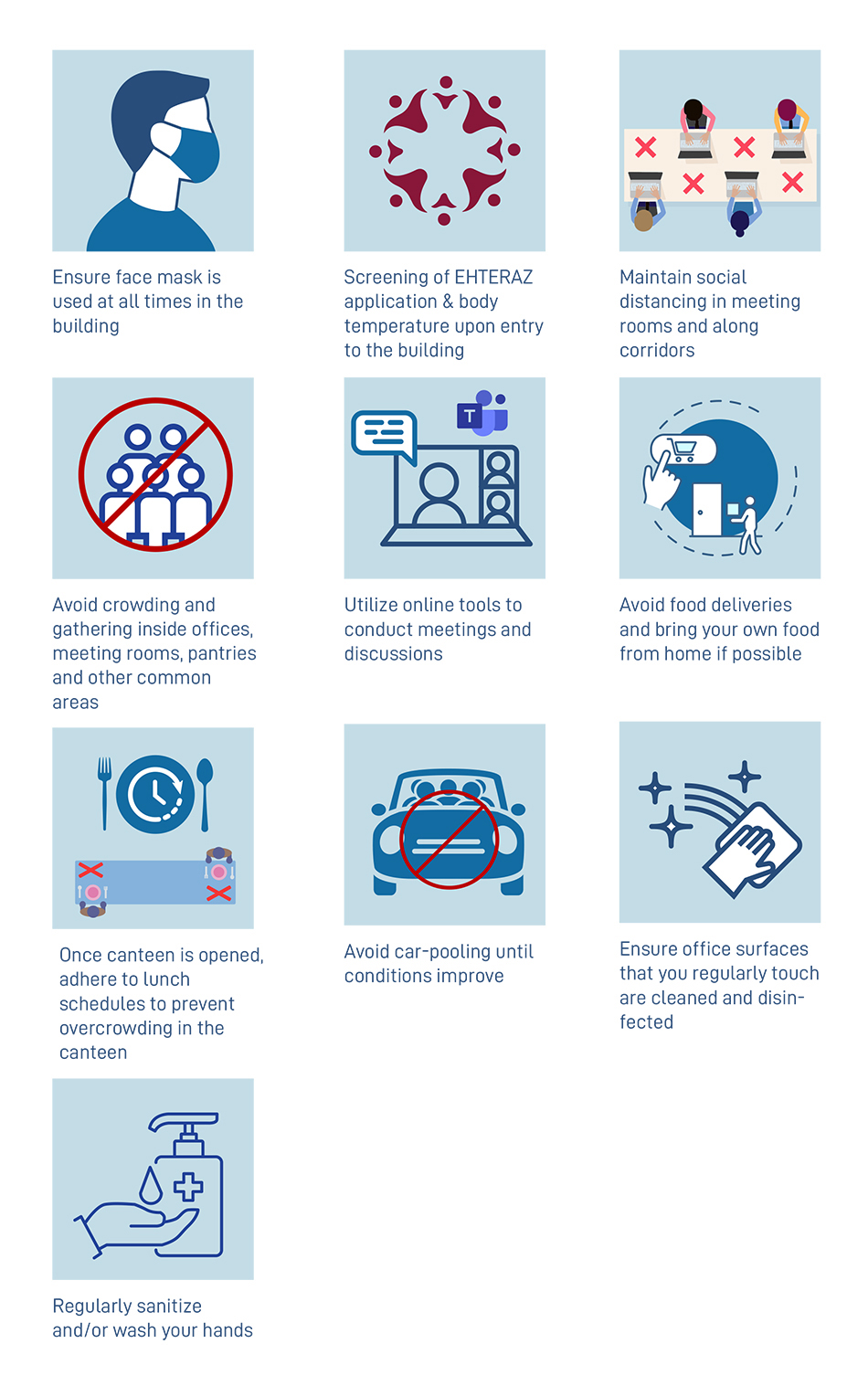 Professional and personal development of our most strategically important assets, our employees, remained in sharp focus during 2020. Nakilat continued to utilize our blended learning approach despite the challenges posed by COVID-19, utilizing digital platforms to continue the delivery of our trainings virtually.
Over 4,000 hours of training content was delivered by subject matter experts from across our business during NICE sessions. Innovative new virtual Masterclasses and webinars were also conducted, catering to a wide range of business topics with external training providers both in Qatar and overseas, including Harvard Business School. A new program designed and delivered this year by Nakilat-certified coaches was the ICON coaching program, which consisted of almost 100 virtual hours of one-to-one performance coaching to 13 young Qatari Nationals, in support of their career goals and alignment with our Qatarization strategy. Over 200 courses were delivered virtually during the year, fully utilizing the platforms and technologies at our disposal to ensure continued development of our employees.
Nakilat also welcomed three additional Qatari Nationals to the rank of Officer as Deck Officers (DOOW) and Engineering Officers (EOOW) during 2020, after having successfully completed their academic studies as well as all sea-training time and competence assessments.
In 2020, we continued our focus on developing the next level of leaders in our business through our succession planning process, which culminated in an agreed succession plan for 2021 for Nakilat. Facilitated by the creation of bespoke development plans for each successor, their advancement and growth will be the key focus for 2021, principally with the launch of our extensive and comprehensive Leadership Development Program.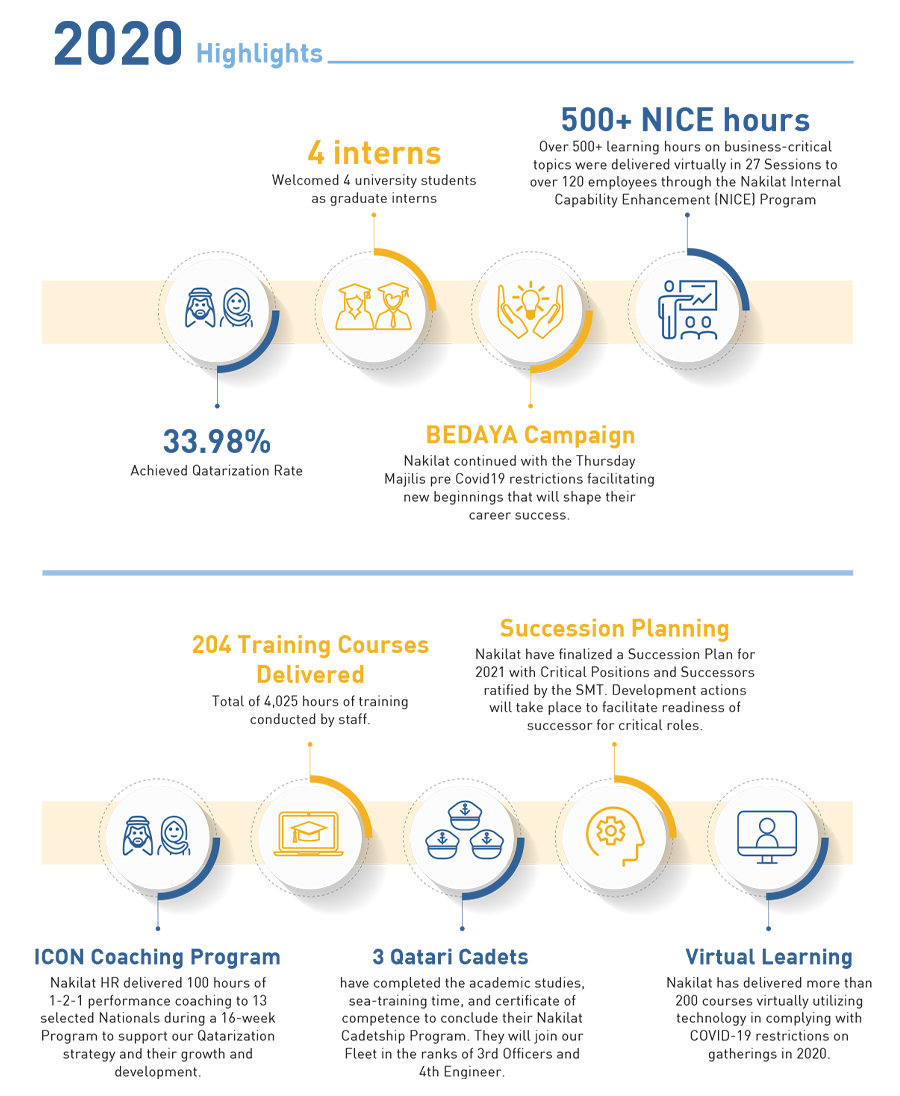 EXPLORE THE ANNUAL REPORT
Downloads
Have a Question?
Contact our Investor Relations
team