Board of Directors Report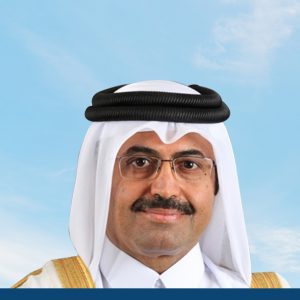 Dear Shareholders,
On behalf of Nakilat's Board of Directors, I am honoured to introduce Nakilat's Annual Report for 2019. This past year unfolded many noteworthy accomplishments; hence the Board would like to begin by commending Nakilat for its persistence in pushing the boundaries towards the achievement of its vision.
The company has come a long way in its brief 15-year operating history to become a formidable global shipping and maritime company. Bolstered by more favorable market conditions and implementation of business diversification and resource optimization strategies, we have stayed true to our mission to create value for our shareholders while elevating the business to new heights.
Since 2017, Nakilat has been operating under a 'new normal', having to navigate the challenges of the ongoing geopolitical situation as well as the dynamics of the global maritime industry. We continued to deliver clean energy to worldwide destinations without any interruptions, upholding our commitment to operational excellence and customer satisfaction. The company followed through its expansion plans with four newbuild LNG carriers added to its fleet, in preparation for additional capacity to meet the growing international demand for clean energy. Additionally, Nakilat acquired the full ownership of four Q-Flex LNG carriers as part of our fleet consolidation, further demonstrating our flexibility to capitalize on profitable investment opportunities.
Today, Nakilat stands proud with a fleet strength of 74 vessels, comprising of the world's largest LNG fleet with 69 LNG carriers, one Floating Storage Regasification Unit (FSRU) and four large LPG carriers. The majority of Nakilat's vessels are fixed with long term world class charterers, securing steady and healthy cash flow for the company. Through our in-house ship management, Nakilat operates and manages 18 vessels comprising of 14 LNG and 4 LPG carriers.
Aligned with Qatar's ambition to enhance the resilience of the energy sector's supply chain and our own business diversification strategy, Nakilat entered into a joint-venture agreement with renowned international service provider McDermott, to establish Qatar Fabrication Company (QFAB). Offering a comprehensive suite of offshore and onshore fabrication services, QFAB aims to support the increasing demand for the construction of offshore and onshore structures in Qatar, and by extension, the country's efforts at localization.
The establishment of this new joint-venture will further complement Nakilat's existing range of maritime services being offered, reinforcing our position as a global leader and provider of choice for energy transportation and maritime services.
Nakilat's integrated shipping and maritime operations include ship repair, ship building, offshore fabrication as well as diverse maritime services, all of which contribute towards developing Qatar as a strategic shipping and maritime hub.
The Board is pleased to highlight achievements of our joint ventures this year:
The Erhama Bin Jaber Al Jalahma Shipyard surpassed its 1,000th project milestone since establishment in 2010
N-KOM commemorated its 200th LNG carrier repair and delivered the largest topside fabricated in Qatar for Qatar petroleum's Bul Hanine project
NSW has undertaken 13,550 tug jobs in 2019, a 1.5% increase from 2018
NAC commenced its global hub agency service and attended to a total of 4,600 vessel calls locally and internationally in 2019
During the year, Nakilat intensified its efforts in maintaining the highest standards of corporate governance, occupational health and safety regulations, risk management and business continuity preparedness to safeguard investor's confidence in the company. We also continued the momentum to strengthen our corporate safety and wellness culture, while streamlining processes and operations towards achieving cost efficiency, inspiring sustainability development among the community, and improving our approach in environmental stewardship. The success of our efforts has seen to the company earning multiple recognitions and accolades across our borders, bearing testament to the high standards the company abides by towards its operations, its people and the environment it operates in.
The Board of Directors commends Nakilat for demonstrating robust financial performance and sustained operational excellence in 2019. With significant accomplishments achieved this past year, I am pleased to announce that we have achieved a net profit of QR 1,003 million for the year 2019, a 12.4% increase as compared to QR 892 million in 2018. As such, Nakilat's Board of Directors is pleased to recommend the General Assembly to distribute cash dividends equivalent to '0.10 Qatari Riyal' per share for the year 2019.
Nakilat's Board of Directors would like to express its gratitude to HH Sheikh Tamim Bin Hamad Al Thani, the Emir of the State of Qatar, and to HH Sheikh Hamad Bin Khalifa Al Thani, the Father Emir the State of Qatar, for their wise leadership and vision that has enabled Nakilat's growth into a diversified shipping and maritime company that significantly contributes towards the development of Qatar's maritime as well as oil and gas sector.
The Board of Directors also offers its appreciation to HE Engineer Saad Sherida Al-Kaabi, Minister of State for Energy affairs, The President & CEO of Qatar Petroleum (QP) for the ongoing support of Nakilat's activities, as well as to QP (including the industrial cities) for the extended co-operation with the Erhama Bin Jaber Al Jalahma Shipyard. We also extend appreciation to our long-term charterer Qatargas for their continued support towards Nakilat's operations. Finally, we would like to thank Nakilat's partners, shareholders, management, employees, Qatar Exchange and Qatar Financial Markets Authority (QFMA) for their continued dedication and support.
HE Dr. Mohammed Bin Saleh Al-Sada
Chairman of Nakilat
EXPLORE THE ANNUAL REPORT
Downloads
Have a Question?
Contact our Investor Relations
team